Where to stay in Ibiza, Spain: Best Towns & Hotels 2022
This is a fascinating island because of the world-famous nightlife and because of everything it offers, including tranquility and peace. The question is where to stay in Ibiza to party and which are the best areas for couples, or with great beaches and families.
The island is small, but it delivers in a big way; there are towns for everyone and, more importantly, for any budget. You will be surprised how relaxed and "bohemian" your stay in Ibiza can be if you wish. Let's move on to the best areas to stay in Ibiza without further ado.
1. Ibiza Town – History meets glitz and party, a place for everyone
Why stay in Ibiza town
Can't decide between the party Ibiza is famous for and the history and culture of the island? Ibiza Town is a charming amalgamation of everything that makes Ibiza unique, and staying here offers plenty of ways to while away the time.
Whether you are more interested in the El Marino part of town, the newer area brimming with cocktail bars and excellent restaurants, designer shops, and yachts, or the Old Town with its cobblestone streets, Gothic cathedral, and the incredible fortified citadel in the center, you are never far from each other.
The accommodation is extensive, from cheap hostels and charming guesthouses to the highest category hotels. If you like walking tours or hidden gastronomic gems, there's plenty here too.
You'll be conveniently close to nightlife wherever you stay, making it the perfect spot for first-timers to the islands or those who want the best of both worlds.
Why avoid Ibiza Town
Although it is possible to walk or take the bus to the nearest beach from Ibiza town, it is not as well situated for the beaches and famous beach parties as other city areas. If you want to spend your days sunbathing and swimming, it may not be the most convenient place.
It's also hectic being one of the main tourist hubs, but you'll still find some authentic local Ibizan life here for most visitors.
Where to stay in Ibiza town:
Luxury | Dalt Vila Mirador Hotel
Luxury | Hotel Sir John
Mid-range | 105 Suites
Mid-range | Ibiza Corso Hotel & Spa
Economic | Llobet Ibiza
More economical | Hostal Juanita
More economical | La Bartola Guesthouse
2. Talamanca – Close to Ibiza town and the beach
Why stay in Talamanca
Right on the northern tip of Ibiza and a quick walk from Ibiza town, Talamanca offers a quiet and comfortable place to stay with the benefit of being close to the beach and promenade and the city itself.
It is a beautiful coastal area, and much of the accommodation and restaurants sit on the curved bay, enjoying incredible ocean views. With walks along the boardwalk, beach, and water sports within easy reach, it is an area much appreciated by families and couples.
However, there is something on offer for everyone, as you are within walking distance of the famous Pasha nightclub and sleeping on the beach after the night before is easy to come by here. If you're looking for a more private getaway, the area's many private pool villas are ideal. In this area, you will find everything from cheap accommodation to tourist complexes.
Where to stay in Talamanca:
Luxury | Hotel Sir John
Luxury | OD Talamanca
Luxury | Nobu Hotel Ibiza Bay
Luxury | Destination Pacha Resort
Mid-range | Lux Island
Economic | Hostal Talamanca
3. Sant Jordi De Ses Salines (Ibiza Beach)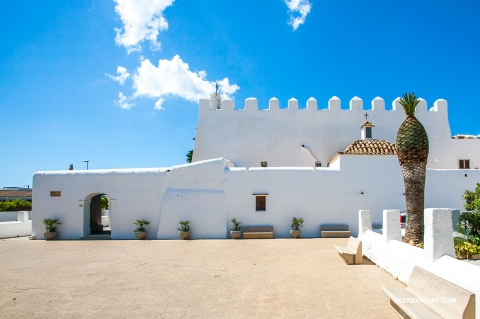 Why stay in Sant Jordi De Ses Salines
The closest party area to Ibiza town, it is one of the main nightlife spots on the island, with the biggest and most famous bars and clubs in Europe. Here is also the Hard Rock Ibiza, which hosts internationally renowned artists.
The neighborhood is located just a four-minute drive from the airport, so you won't waste any time between landing and partying. Staying at Ibiza Beach also means that you benefit from being within walking distance of Ibiza Town to enjoy the culture, shopping, and history of Ibiza's main center. With a wide range of accommodation here, it's a party-goer's paradise.
Why avoid Sant Jordi de Ses Salines
If you are in Ibiza for a quiet break or are not here mainly to party, this is not the area for you. It's noisy, busy, and open late. Also, the beach is eternally crowded, so you won't have the charm, space, and water sports that other beach areas on the island can offer.
Where to stay in Sant Jordi De Ses Salines:
Hard Rock Hotel Ibiza
FERGUS Style Bahamas
Ushuaia Ibiza Beach Hotel – Adults Only
4. Santa Eulària Des Riu – Great high-level tourist area, with a lot of activity all year round
Why stay in Santa Eulària Des Riu
This quieter part of the island, the third-largest resort in the city, is perfect for those who enjoy fun in the sun, caters to families and couples, and is a favorite of the jet-set wealthy due to its high-end marina area.
There are fewer nightclubs and bars here, and it generally has a lovely slow pace of life, except for the buzzing jet skis. Water sports are prevalent here.
You'll almost always get a seat on the beach, and strolling along the promenade is a delight; the whole city has a year-round resort feel to it due to the thriving ex-pat community, so if you're traveling out of season, don't even miss it you will notice
Why avoid Santa Eularia des Riu
Anyone looking for a lively area with many things to do, be it cultural activities or nightclubs, can find this area very quiet. Its location is ideal for reaching most of the island if you have a car or want to use public transport.
Where to stay in Santa Eulària Des Riu
Luxury | Insotel Fenicia Prestige Suites & Spa
Luxury | Gran Hotel Palladium Santa Eulalia Del Rio
Luxury | Three Towers Hotel
Mid-range | Aparthotel Tropic Garden
Economic | Acora Ibiza
More economical | Hostel Yebisah
More economical | Funky Nanit Rooms
Alternative | Estate Legacy
5. Playa De Portinatx – Area of ​​quiet beaches and nightlife, a perfect intermediate point
Why stay at Portinatx Beach
This fun neighborhood has three beaches: S'Arenal Petit, S'Arenal Gros, and Playa Porto, so you will never be bored or short of things to do.
Many quieter tourist areas are perfect for families, but there is also plenty of nightlife to enjoy in the area. You'll always have space on the beach, and there are shops, restaurants, and tattoo studios in the area for when you're not sunbathing or drinking.
There are plenty of budget accommodations and cheap local restaurants here, making it popular with those looking for an affordable, sunny getaway and first-timers to the island who want the best of both worlds.
Why avoid Portinatx Beach
If you're looking for a luxury stay, there are fewer high-end options in the area, and everything is more suited to the budget traveler. Also, if you want to be closer to the main nightlife areas and the city's famous bars, this may not be for you.
Where to stay in Portinatx Beach:
Grupotel Ibiza Beach Resort – Adults Only
Barceló Portinatx – Adults Only
Sandos El Greco Beach – Adults Only – All Inclusive
6. San Antonio – Famous beach party area
Why stay in San Antonio
San Antonio is drinking central, famous for hosting the wildest parties and having the best dance music. Once a fishing village, this selection of beaches is laid back and sleepy during the day and the complete opposite at night.
The most famous nightclub, Ibiza Rocks, is based here, and the Sunset Strip, a group of bars scattered along the coast. The sunsets here are legendary, and you will spend your evenings having a drink and watching it go down before partying with hundreds of other visitors.
Here there is a wide range of accommodation adapted to all budgets.
Why avoid San Antonio
Although it is a beach area, they are the least picturesque on the island and can often have a lot of rubbish left behind by last night's drinkers. Partying is the main thing here, so if you're here with a family or not for the nightlife, this is the area to avoid.
Where to stay in San Antonio:
Luxury | Resort Boutique Can Vistabella
Luxury | Palladium Hotel Palmyra – Adults Only
Mid-range | Cubanito Ibiza Suites
Mid-range | Hotel Sa Clau
Economic | Hotel Playasol Marco Polo I
Economic | Hotel Puchet
More economical | Florencio Guest House
More economical | Hostal Can Beia
7. Playa D'en Bossa – The longest beach in Ibiza and the center of the party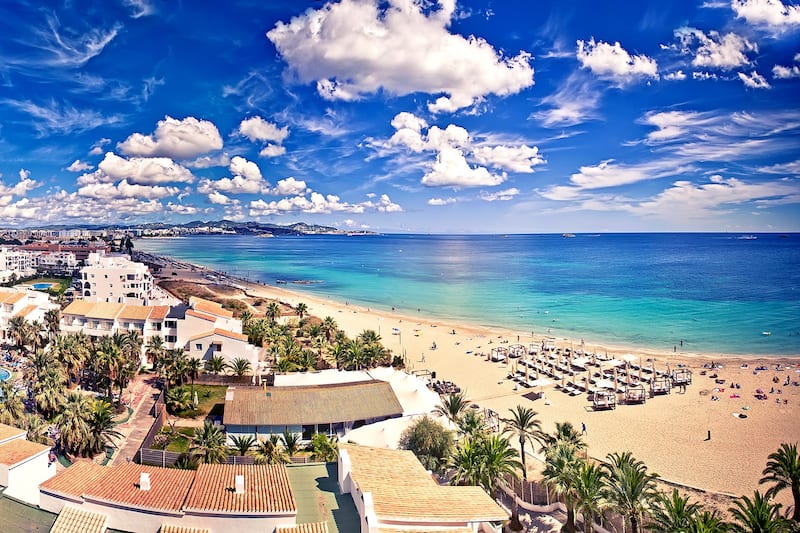 Why stay in Playa D'en Bossa
Announced as the essential beach in Ibiza and with more than three kilometers in length, it is the longest beach in Ibiza. Busy in the summer and empty in the winter, there are many boutique shops, beach bars, and eateries.
There's a promenade to stroll along and a good amount of nightlife, including some famous clubs like Hi-Ibiza, although it's not as crazy as areas like San Antonio.
It is just south of the city of Ibiza and has a wide range of accommodation of all kinds.
Why avoid Playa D'en Bossa
As you'd expect from Ibiza's longest beach, it's hectic in the summer, so make sure you get a spot early. One problem in recent years is that it is noticeably littered in the summer due to partiers not picking up their litter—a shame for the environment and something to consider if that bothers you.
Where to stay in Playa D'en Bossa:
Hard Rock Hotel Ibiza
My Way luxury studio in Ibiza
Hotel Playasol Bossa Flow
Club Can Bossa
Hotel Torre del Mar
8. Santa Gertrudis – Authentic bohemian neighborhood
Why stay in Santa Gertrudis
For people looking for a quiet and authentic getaway in rustic Ibiza, this bohemian area full of local and international artists is another world compared to Ibiza town or the party beaches.
Local restaurants, vegan cafes, and juice bars are the kind of businesses that line the idyllic backstreets. You will also find local art shops, artisan products, and wine bars.
Renting a chalet in the city or surrounding countryside will allow you to experience life like a local and have a relaxing and enchanting getaway.
Why avoid Santa Gertrudis
It is in the center of the island, so you will have to travel to get to the beach and the nightlife, which is generally concentrated in the coastal areas. There are also no hotels in the traditional sense, and accommodation is usually family-style and in villas.
Where to stay in Santa Gertrudis:
9. Es Cana – Quiet holiday area for a slow pace of life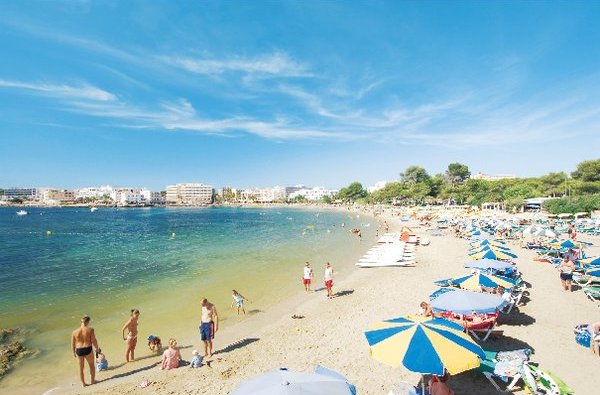 Why stay in Es Cana
A busy but very low-key part of the island, this beach resort area is popular with families or individuals looking for a quiet vacation in one of the area's big-name hotels.
The crescent-shaped sandy beach is rarely crowded, and there is plenty to do nearby in terms of shopping, fishing, and local and international beach bars and restaurants. There is also a lively water sports scene.
A big draw in the area is the hippy market, held on Wednesdays, where the island's people sell their eclectic handmade goods, from food to trinkets to clothes and accessories. There is always music in the air, and people relaxing drinking sangria in this friendly place.
Why avoid Es Cana
It is a quiet place 12 miles from Ibiza town and the main party places. It's a perfect area if you're looking for a quiet getaway with things to do on your doorstep, but it's not well situated if you want to party the night away at the famous clubs or explore the museums and galleries of the central city.
Where to stay in Es Cana:
Hotel Anfora Ibiza
AluaSoul Ibiza – Adults Only
Invisa Ereso
10. Cala Llonga – Beautiful tourist area, ideal for water sports and families
Why stay in Cala Llonga
Picturesque Cala Llonga boasts 360-degree views of pine forests, crystal clear waters, and white sand and is the perfect base for anyone who wants to be close to the clubbing area but doesn't want to be based there.
There are many fun activities, like volleyball, pedal boats, and scuba diving, and the whole area has a sweet retro vibe reminiscent of old beach postcards.
There are specific areas for children to have fun, such as playgrounds and children's pools, and there are many restaurants and bars on-site if you don't want to go to the busier areas—a great mini-resort with a reasonable accommodation offer and a perfect place to recover from so much partying.
Why avoid Cala Llonga
There is little not to like about the area unless you are not looking for a resort-style stay and prefer to be in a more authentic place with lots of cultures or in the heart of the nightlife. As an intermediate zone, there is nothing better.
Where to stay in Cala Llonga:
Ses Veles Apartments
Apartments Cala Llonga
Cana Sofia Apartments
11. Cala Tarida – Quiet beach resort on the west coast with famous restaurants
Why stay in Cala Tarida
Known as one of the most attractive tourist areas in Ibiza, it boasts the longest and widest white sand beach on the West Coast and is quiet and relaxed.
With shallow waters, rugged coves, and family-friendly resorts, it's a lovely spot if you have kids, and there are plenty of fun activities to enjoy in the area, including a diving school. There is no shortage of excellent fine dining restaurants, local eateries, and bars to enjoy in the area.
Why avoid Cala Tarida
Beachside accommodation is expensive in this area, and some bars and restaurants reflect this. It's not off-limits to budget travelers, but housing is less affordable here than in other parts of the island.
Where to stay in Cala Tarida:
Hotel Playasol Cala Tarida
Can Marcel
Royal Villas of Ibiza
9 Best Beaches in Russia You Must Visit in 2022
12 Most Beautiful Beaches In Germany 2022
 24 Top-Rated Beaches in Portugal: Complete Guide 2022
17 Best Beaches in Albania: Ultimate Guide 2022
Where to stay in Ibiza, Spain: Best Towns & Hotels 2022