20 dishes of typical Colombian food – comida colombiana
Colombian food or comida colombiana is rapidly evolving as chefs take the land's bountiful bounty and flavorful customs to exciting culinary heights. However, Colombians are traditionalists at heart, so you can count on the classics, such as arepas, buñuelos, and ajiaco, to always be present. And since the capital attracts emigrants from all over the country, some of the tastiest versions can find in Bogotá. Here are five dishes you don't want to miss and the best place to eat them.
The typical food of Colombia is not that it is well known worldwide, but without a doubt, the country has a series of delicious traditional foods. Each region of Colombia has its own dishes and its own variants of national dishes. Although there is more, in this article, we have made a compilation of some of the best typical Colombian dishes.
Contents
Tray paisa
Suckling pig
Ajiaco
sancocho
Changua
arepas
Fritanga
Big Ass Ants
Tamales
Rondon
Pandebono
Mamona
Smooth rice
Cuchuco
Rib broth
Wafer
Empanadas
Chicken sweat
Seafood casserole
Cassava bread
Parva
Frequently asked questions about Colombian food

What are the typical dishes of Colombia?
What is the typical dish of Bogotá?
What is lunch in Colombia?
1. Tray paisa
Bandeja Paisa is a traditional meal from the Paisa region of Colombia , which includes the cities of Medellín, Santa Fe de Antioquia, Guatape and Jardín. It is so beloved that it has been adopted as a national dish of Colombia. This hearty meal usually contains white rice, red beans, ground or minced meat, banana, chorizo, corn, pork rinds, fried egg, arepa, and an avocado.
Ingredients can vary from city to city and restaurant to restaurant, adding or subtracting certain elements. The serving size can also range from a full meal to half or a quarter the size of a traditional plate.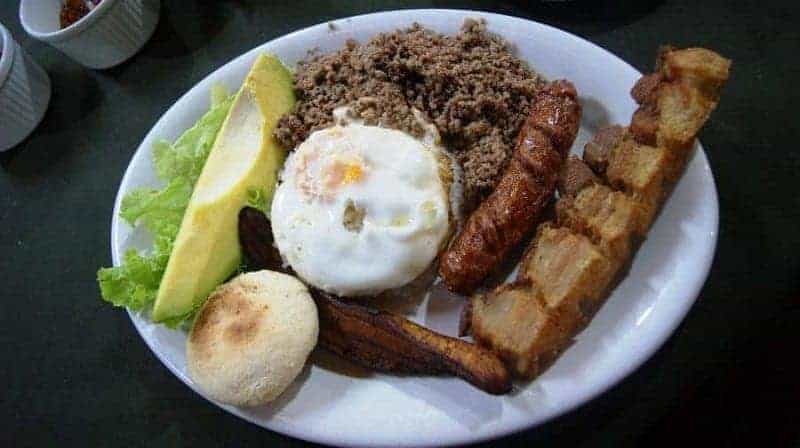 The paisa tray originated in Medellín (widely considered a friendly rival to the capital) as a marketing tactic in the 1960s but has become one of the nation's most iconic dishes. Fortunately, many places serve legitimate versions in the city. The hearty potpourri of beans, rice, chicharrón, plantains, avocado, arepa, and usually an egg and another meat or two (yes, really!) It is best eaten during brunch at El Envigadeño or Comedorcito Paisa.
2. Suckling pig
Lechon is a mixture of chickpeas, pork, spices, and occasionally rice (depending on the area), often served with an arepa. Traditionally this mixture of ingredients is slowly cooked for up to 10 hours within a whole pork roast that infuses all the flavors and creates a delicious dish.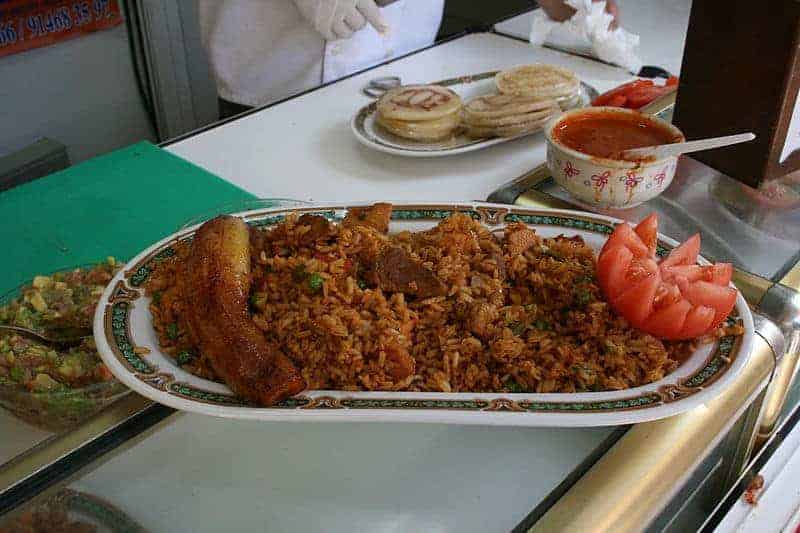 While Lechona can be found in restaurants throughout Colombia, it is native to the Tolima region, which is southwest of Bogotá and contains the main cities of Ibagué and Espinal.
3. Ajiaco
Native to the Bogotá region and the Andes Mountains of Colombia, but more recently found throughout the country, this traditional soup is ideal for the more excellent mountainous places.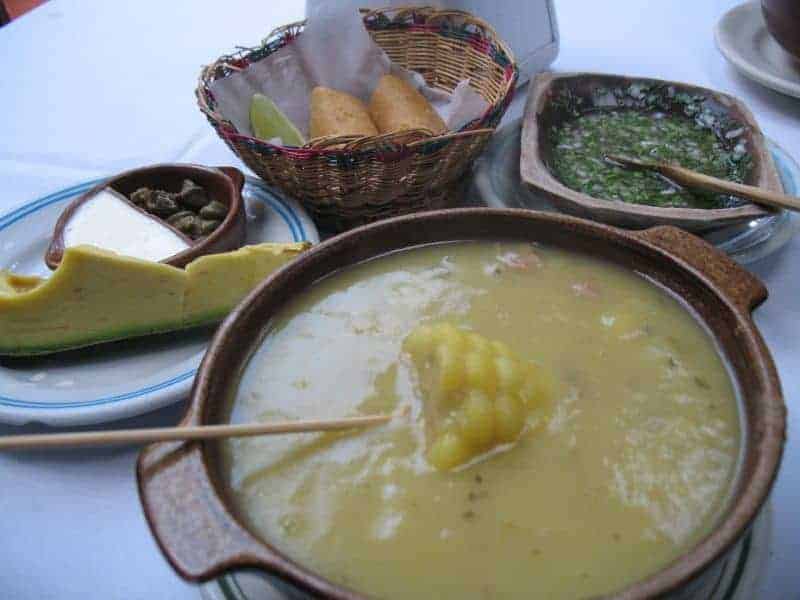 This dish is a white soup made with chicken, a variety of two or three types of potatoes, corn, sour cream, and is usually served with white rice and avocado. There is nothing better to combat a cold day in Bogotá than a plate of ajiaco, a rich chicken and potato soup flavored with a Colombian herb called guascas and thickened with double cream.
Although many restaurants do it well, there is no doubt who is at the forefront: La Puerta Falsa. The oldest restaurant in the country remains relevant for its commitment to using fresh ingredients and its secret recipes that make its ajiaco (and other traditional foods) simply the best.
4. Sancocho
Sancocho comes from the traditional Spanish dish and is famous throughout South America, with each country having a unique vision of the dish. Colombia is no different: the Colombian dish varies between fish from the coast and various types of meat from other regions.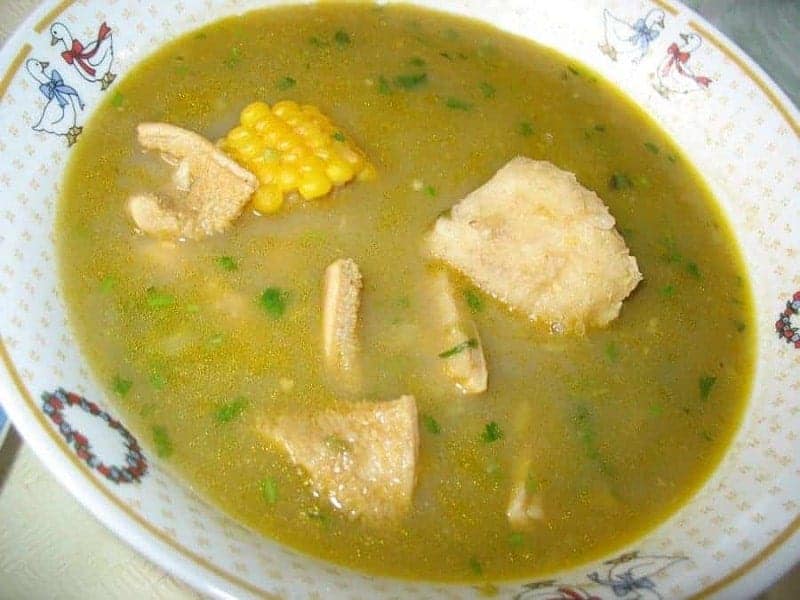 It always contains cassava, corn, potatoes, and plantain and is usually white rice. This dish is originally from the Valle del Cauca region that includes the cities of Cali, Buenaventura, and Tuluá.
5. Changua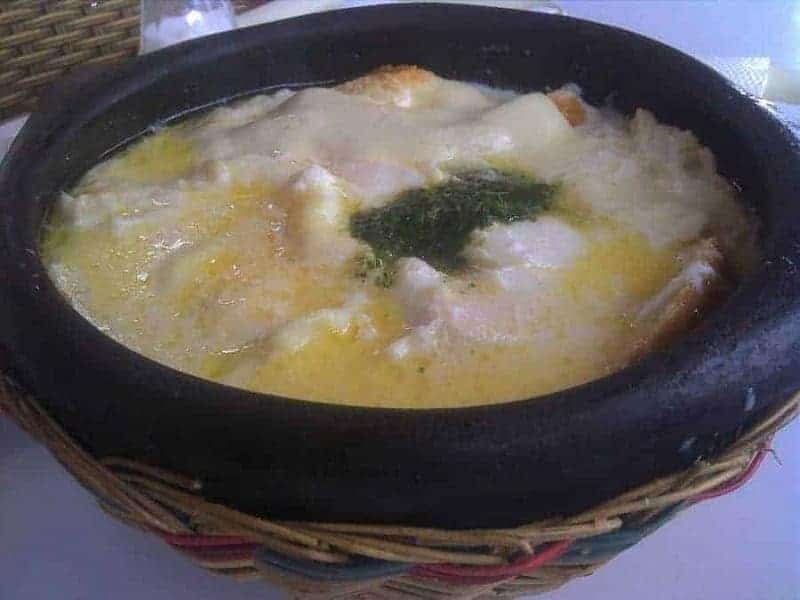 This breakfast soup is native to the Andes region, and in this cooler and mountainous area, this soup provides an idea to start the day. The milk-based soup is made with water, milk, egg, onions, and coriander and is often served with bread and hot chocolate.
6. Arepas
Friends, Arepas are the most common traditional dish in Colombia and are served as a side or as a meal on their own. Arepas are served throughout Central and South America, but Colombia has its original arepa.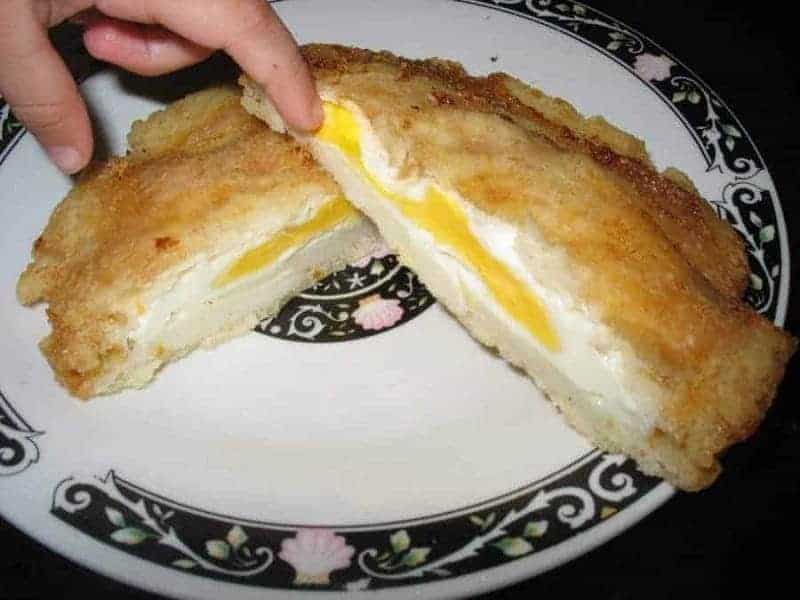 Arepas can be of several varieties, including arepas de choco (made of sweet corn and stuffed with cheese), arepas con queso (stuffed with cheese), and arepas de egg (a fried arepa with a cracked egg inside and then refried). Each region of Colombia has its traditional way of eating and making arepas.
7. Fritanga
This dish can find in various forms throughout Colombia, and each contains slightly different ingredients depending on the region or restaurant. This hearty, meat-packed dish includes a variety of grilled meats (chicken, beef, pork rinds, chorizo). It is generally served with various potatoes, arepas, plantains, and corn. This plate is designed to be shared among family or friends – each with a fork or cocktail stick to dig into this plate.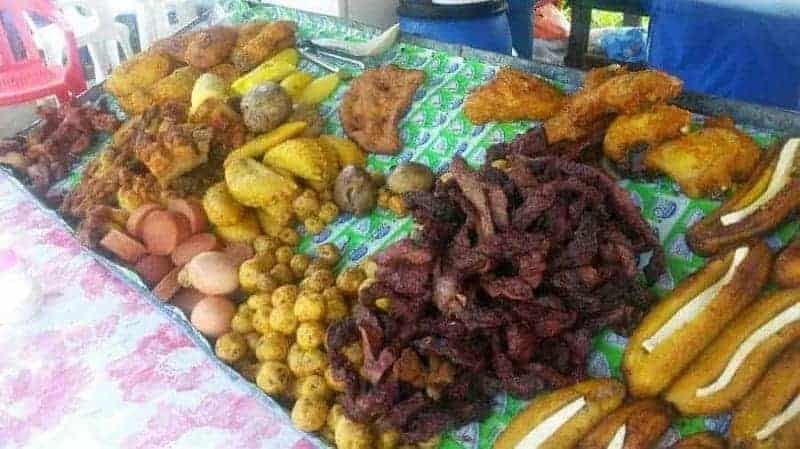 No road trip or party night is complete without a fritanga (also known as picada). It's a meat-centric dish, stacked with chunks of pork and beef specialties (imagine chorizo, chicharrón, blood sausage, sausage). At Andrés Carne de Res, named and known for its premium meat, the combo also comes with arepa de choclo, Creole potatoes, and tostones to soak up the fat (and the drinks that generally accompany these gatherings).
8. Big Ass Ants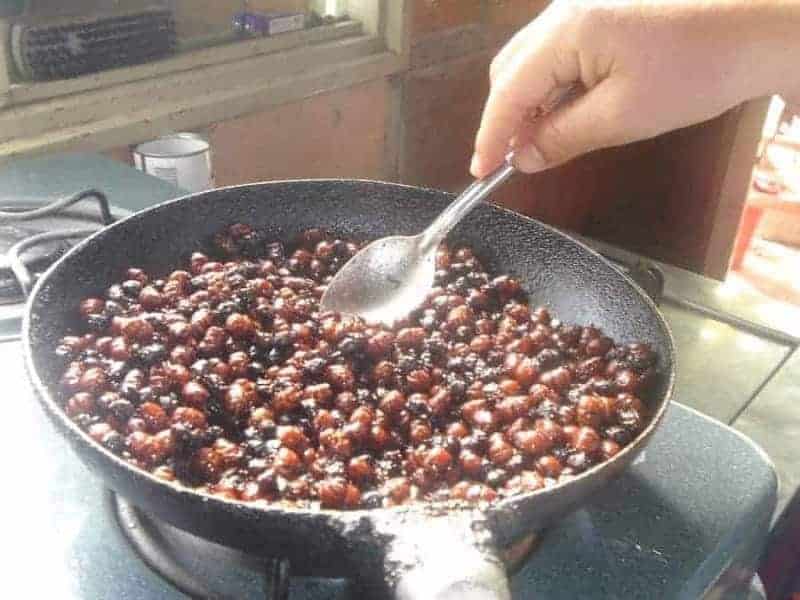 It is a delicacy from the Santander region of Colombia, an area north of Bogotá home to Bucaramanga, Barichara, San Gil, and Floridablanca. Culona Ants are a specific, significant, leaf-eating species of ants traditionally found in this region and are eaten for their flavor. These ants can be served fried or roasted in salt and mashed or kept whole.
9. Tamales
Tamales can be found throughout Central and South America, served in various ways and with a variety of toppings. Colombians traditionally eat tamales with meat, vegetables, fruits, or cheese, and this corn-based delicacy is served and cooked wrapped in a banana leaf. Tamales can find throughout Colombia in supermarkets or restaurants.
10. Rondon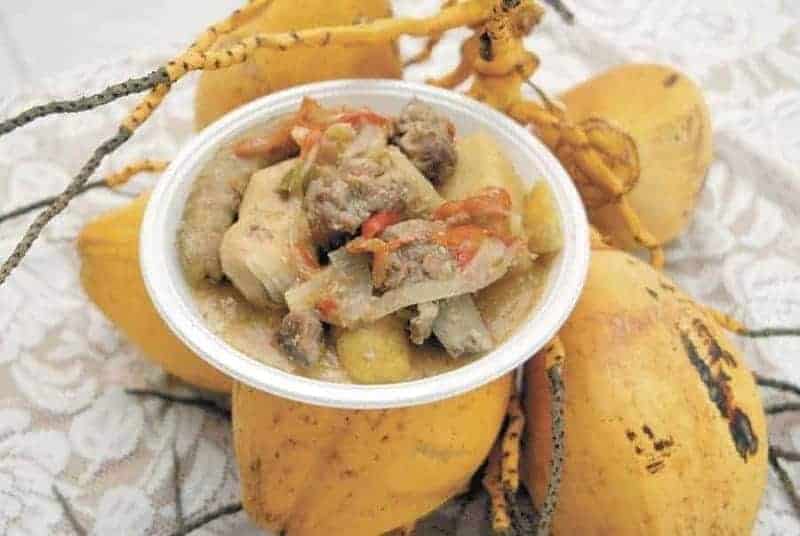 This Afro-Caribbean-influenced dish is typically found on the Caribbean islands of San Andrés and Providencia in Colombia. This soup-based dish is prepared primarily from a fillet of fish or other shellfish, snails, sweet potatoes, potatoes, yucca, and baked plantains cooked in coconut milk and pepper. This dish is often served with coconut rice and fried banana.
11. Pandebono
Pandebono is a traditional bread native to Colombia's Valle del Cauca region, made with cornflour, yucca starch, cheese, and egg, and is occasionally served with guava paste. At the same time, pandebono can be tasted in many bakeries across the country.
12. Mamona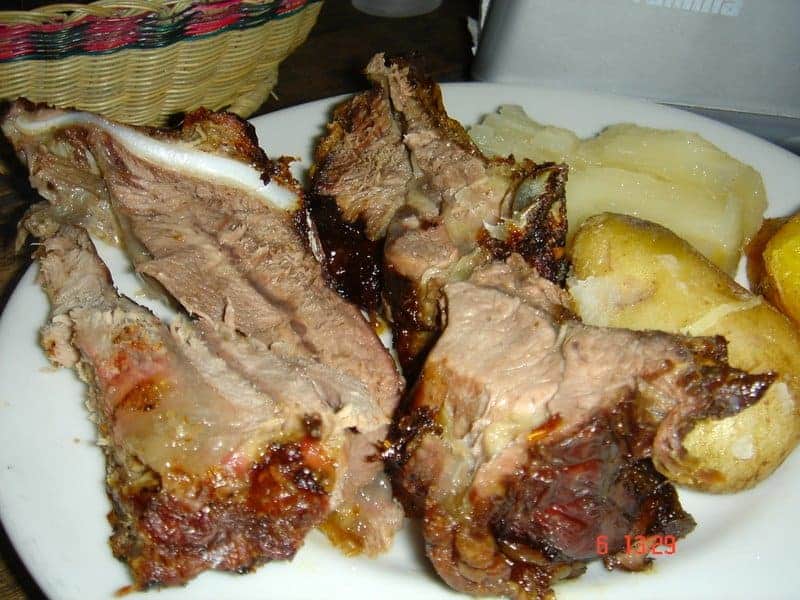 Mamona is a dish traditionally from Colombia's Los Llanos and Meta regions. It contains beef (often cooked over a barbecue or fire) served with potatoes, plantain, yucca and topped with chili. Eating this dish is best as a dinner guest.
13. Smooth rice
Arroz de Lisa is a rice dish from the city of Barranquilla on the Atlantic coast of Colombia. Smooth rice usually contains fish (often mullet), coconut rice, onions, chili, vegetables and is often served on a sheet with avocado and chives.
14. Cuchuco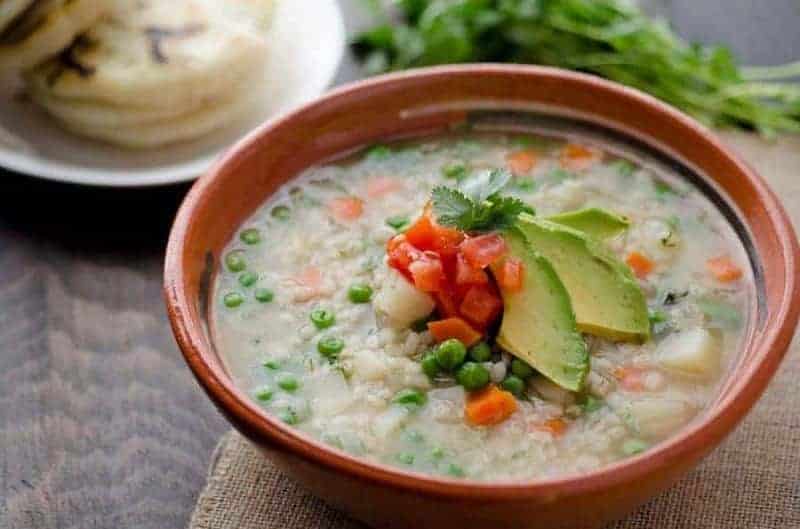 Cuchuco is a filling soup native to the Boyacá region of Colombia, which is believed to have originated from the indigenous communities that once inhabited the area. This soup contains corn, barley, bean puree, peas, carrots, potatoes, coriander, and garlic.
15. Rib broth
Caldo de Costilla is a Colombian family breakfast dish and hangover cure whose recipes have been passed down from generation to generation. It is a water-based soup containing potatoes, cilantro, ribs of beef, or a different cut of meat.
16. Wafer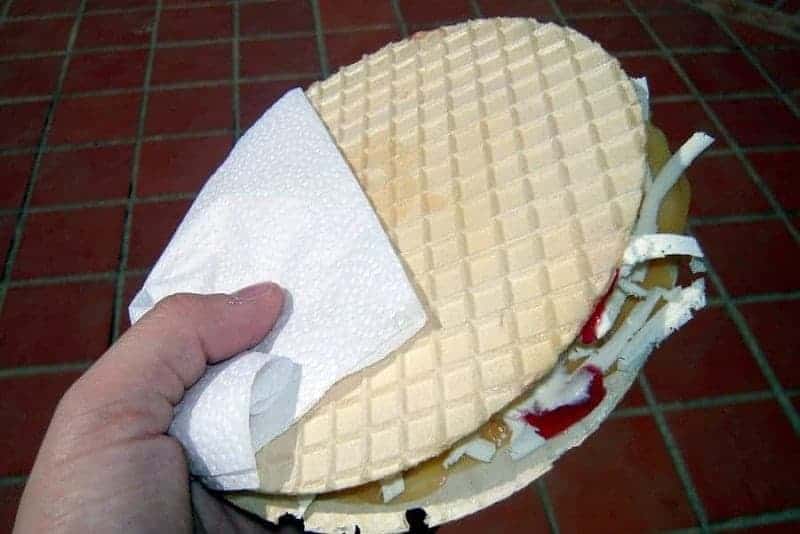 A wafer is a typical street dessert found throughout Colombia. This dessert is made from two round wafers interspersed with various fillings, such as arequipe, jam, chocolate, sprinkles, or sugar. A great place to find wafers with a wide range of fillers is Bogotá's, Plaza Bolívar.
17. Empanadas
Empanadas can find throughout Latin America, but Colombian empanadas are fried and contain various ingredients, including rice, meat, egg, potatoes, or vegetables.
18. Chicken sweat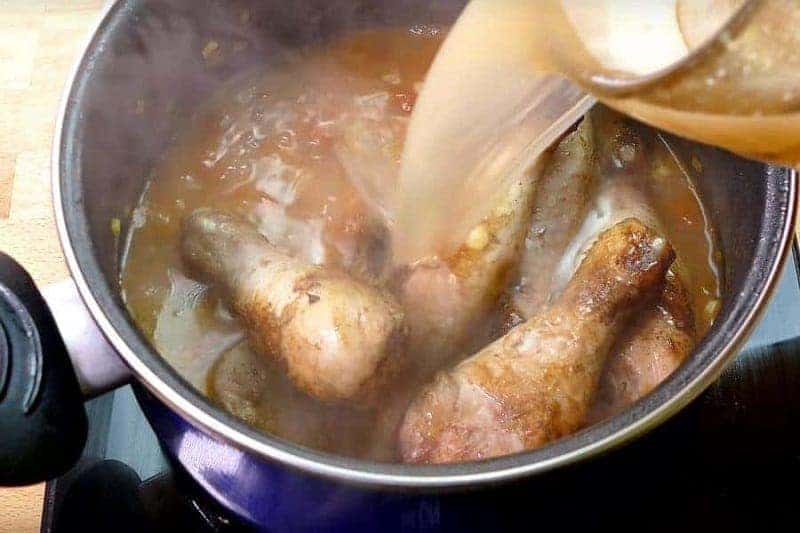 Pollo Cuidado is a traditional chicken dish from the coastal city of Barranquilla, Colombia. This dish contains chicken (often legs), boiled with potatoes, onions, tomatoes, and red peppers, and is typically served with rice.
Recent Posts
20 dishes of typical Colombian food
19. Seafood casserole
Seafood Casserole is a seafood stew typically enjoyed in the Caribbean regions of Colombia. It is a coconut milk-based stew that contains vegetables, spices, shrimp, lobster, shrimp, oysters, squid, and other varieties of fish.
20. Cassava bread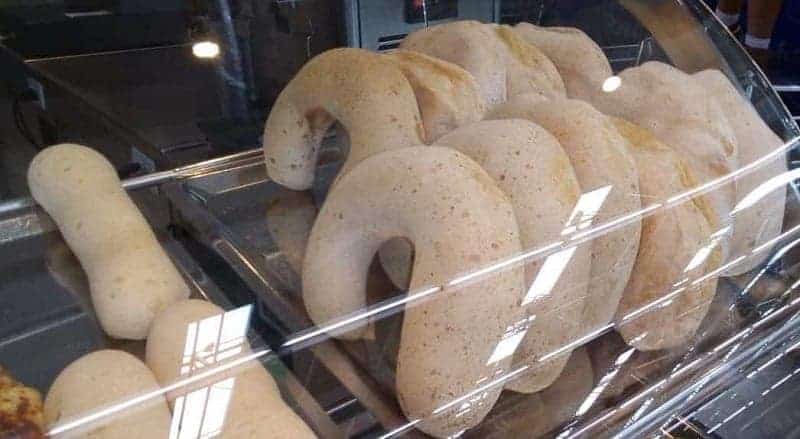 Yucca bread is a typical bread from the southern regions of Colombia. The bread is made with cassava flour, butter, eggs, and cheese.
21. Parva
This term is used in the Antioquia and Eje Cafetero regions to refer to any of the essential baked goods that make up most breakfasts (and some mid-morning and afternoon sandwiches) throughout the country. The basics: almojábana, pandebono, yuca bread, and cakes; Although similar, they vary in the amounts of cheese, cassava, and grains used. They are all tasty, so there is no way to go wrong. These and more so covet the Bakery Kuty, and you see your bike messengers delivering fresh baked goods throughout the city.
Conclusion:
Colombian cuisine is a compound of the culinary traditions of the six central regions within the country. Colombian cuisine varies regionally and is mainly influenced by Indigenous Colombian, Spanish, and African cuisines, with slight Arab influence. Wikipedia
comida colombiana – 20 dishes of typical Colombian food