15 Best latest places to live in Tennessee 2023
Tennessee is home to history, nature, a mild climate, and many types of music. It's a great vacation destination, but it's so much more. The state's natural beauty, available amenities, and rural calm combined with mild temperatures make Tennessee welcoming to retirees.
As retirees search for places to retire, Tennessee is often a top choice. While visiting the Volunteer State, we noticed new housing developments everywhere we went and learned that many people, especially retirees, are moving to Tennessee.
My curious mind took over, and I began to wonder why so many people were flocking to the state and the condition they were going through. We met several people planning to retire next year during our travels and moving to Tennessee, so I spoke with them.
Contents
1. Brentwood
2. Franklin
3. German Town
4. Collierville
5. Nolensville
6. Murfreesboro
7. Oak Ridge
8. Mount Juliet
9. Spring Hill
10. Hendersonville
11. Maryville
12. Bartlett
13. Smyrna
14. Johnson City
15. Kingsport
What comes to mind first when Tennessee is mentioned? Birthplace of the blues and home of Elvis Presley? Well, you are not alone. Its musical roots are what many often associate The Volunteer State with — and Memphis BBQ, of course — but this downstate gem is so much more than that.
Located in the southeast region of the United States map, Tennessee has recently been rated as one of the best states to live in the country. And for a good reason.If you're looking to relocate to a state full of beautiful scenery, deep-rooted cultural traditions, and a low cost of living, Tennessee is the place for you. With over 6.6 million people, it is the 17th largest state by population.
The eastern part of the state is home to the Great Smoky Mountains and the country's most visited national park: Great Smoky Mountains National Park. It's a dream for anyone looking for pristine hiking trails.If farming is more your thing, the western part, with miles of lush farmland, will appeal to you the most. But like every other state, Tennessee has a mix of large urban areas (Memphis and Nashville, for example) and many smaller communities that make for a nice escape from the hustle and bustle of the big city.
We dug around to figure out exactly where in Tennessee is most ideal for pitching a forever tent, and here's what we found.
1. Brentwood
With a population of around 40,000, Brentwood is one of The Volunteer State's most reputable addresses.The affluent suburb is renowned for its greenery and rolling hills. If you know any country music stars and athletes who live or own a home in Tennessee, chances are they live here.
The 2023 U.S. News & World Report named Brentwood High School the 5th best high school in the state, and the city's high schools overall have a near-perfect graduation rate of 96%.With 13 parks in the area, including Smith Park, which has over 400 acres of open fields, and numerous hiking trails, it promises a lot in the outdoor activity scene.
However, Brentwood has one of the highest living costs in the entire state, with house prices ($506,300) dwarfing those of most other cities. But many argue that the neighborhood offers a lot for the money, with the bonus being its proximity to Nashville International Airport.
2. Franklin
Next on our list of the 15 best places to live in Tennessee is Franklin, a city in Williamson County with a population of 68,500.The median home value is significantly lower than Brentwood's at $321,400. And while household incomes can't approach Brentwood's $141,833 (triple the state average), they aren't peanuts ($85,671).
The area has been nationally recognized for its excellent schools and an abundance of great community opportunities.Franklin also offers a glimpse of American history through its intense Civil War-related historical sites, with a much-loved downtown. With over 200 restaurants to choose from, you won't find as many restaurants clustered in one place in Tennessee as in Franklin.
In 2014, Garden & Gun Magazine named Franklin its #1 pick for "Best Town in the South," which says a lot.
3. German Town
Another consistent feature of many of the best places to live in Tennessee is Germantown should be the first place you look for if you consider living in the Memphis area.
It has a population of a few hundred under 40,000; if you ask us, this city has it all.The cost of living is low, and housing is affordable ($288,500). The income is one of the highest in the state ($109,464), and the crime rate is not a constant feature of the evening news.
Schools in Germantown have the highest rating among school districts close to town, but close enough for several great spots for a date night.
4. Collierville
Considered a suburb of Memphis, Collierville is located about 30 miles outside of downtown.
It has a population of just under 48,000 who are mostly well-paid, considering it is one of the wealthiest areas near the big city or even the state.
Families earn an average of $110,084, and when you factor in the cost of living, you can't help but marvel at the affordable living in the entire state of Tennessee.
The homes are selling for an attractive $272,800, roughly the cost of a gorgeous three-bedroom mansion – tucked away in one of the state's most desirable neighborhoods, lest you forgot it.
5. Nolensville
We return to Williamson County, a small suburb of Nashville home to nearly 6,400 residents.
Nolensville is undoubtedly one of the best places to live in Tennessee, but its small size makes it ideal for those looking for a town with a close-knit community. No wonder there remains a preference for families with children – this is one of the places with the highest percentage of growing families.
Properties are among the most expensive in the state, averaging $316,200, but that may be because Nolensville sits between two of Tennessee's largest metropolitan areas, Nashville and Murfreesboro.
There are excellent schools in the area, with a booming local economy that earns residents an average of $108,549 per household.
Talking about that…
6. Murfreesboro
If your idea of ​​a great place to live is an upcoming city with a booming economy, your heart would love it in Murfreesboro, a town in Rutherford County that 118,000 people call home.
It has been recognized as a famous city in The Volunteer State, with much promise.
The large population might make you think it's a concrete jungle, but quite the contrary. Murfreesboro is full of parks and greenways, the latter stretching 12 miles, with more to come.
The mid-sized town is rich in history and historic sites, including the famous Civil War battlefield, Stones River National Battlefield.
The nightlife in this city is vibrant, and locals often describe its music scene as Nashville's but "without the crazy ones."
In addition, the cost of living is attractive, with an average rent of $876 per month, while properties are priced at $181,900. Single-family homes, yes. With a fair share of condos.
7. Oak Ridge
You'll find the idyllic town of Oak Ridge on Tennessee's east side in Anderson County, about 25 miles outside Knoxville.
Oak Ridge dates back to the 1940s when it was built as part of the federally funded Manhattan Project. In the late 1950s, it became an independent civilian town, and as we speak, the population had grown to 29,300.
The federal government still maintains a visible presence in the area, with the Y-12 National Security Complex and the Oak Ridge National Laboratory significant employers of the residents.
Oak Ridge has one of the lowest crime rates in the state. And with average prices averaging $149,800 (and rent at $732 a month), it's not hard to see why so many people are flocking to Tennessee to put down roots here for good.
8. Mount Juliet
Mount Juliet is a suburb of Nashville located in Wilson County, approximately 20 miles east of the state capital.
With a population of 28,400, this city is the perfect place for anyone looking to start a business. It was named one of Tennessee's most business-friendly cities by the Beacon Center, a nonprofit free-market think tank.
The cost of living in Mount Juliet is average, with homes selling for $210,400. Residents enjoy relatively high-income levels, averaging $76,000.
The city is nestled between the Cumberland River and Lake Percy Priest, a place that has earned it the nickname "The City Between the Lakes."
9. Spring Hill
Spring Hill is a town near the city of Nashville, which is in Maury County. It has grown from a sleepy little village to a thriving urban center with a robust, balanced economy exploding with jobs.
Nearly 33,000 people live in Spring Hill, one of the state's fastest-growing cities.
This growth is fueled by many well-known employers, including General Motors, Ryder Logistics, Kroger, Pioneer Manufacturing, APEX Turbine Technologies, and Integrity Nutraceuticals.
This explains the high incomes enjoyed by Spring Hill residents, averaging $78,588 per household.
It s, coupled with the beautiful schools in the area, makes this town an excellent place for families and anyone looking for well-paying job opportunities. And who isn't?
10. Hendersonville
Die-hard Taylor Swift fans will know that the pop and country sensation was educated at Hendersonville High School. The school system in this Sumner County town is up there, in case that's a deciding factor for you as you look for a nice place to settle in The Volunteer State.
This Nashville suburb sits on the shores of Old Hickory Lake, a section of the Cumberland River. Suffice it to say; there are plenty of water activities you can enjoy here, be it swimming, fishing, skiing, boating, or relaxing on the beach, with 26 miles of shoreline to tell.
There are also many parks in the area and natural and historical sites that guarantee a plethora of leisure options to satisfy everyone.
The Streets of Indian Lake is an entertainment complex with over 30 restaurants and shops, meaning you don't necessarily have to travel to the big city to have a little fun.
11. Maryville
If a home with beautiful mountain views and proximity to urban amenities fits your dreams' description, you can't do better than Maryville.
This is especially true given the low cost of living in an area often considered one of the best places to live in Tennessee. Maryville sits at the foot of the Great Smoky Mountains, just 20 miles from the town of Knoxville.
Despite its sublime yet convenient location, median home values ​​remained low at $189,700. If you're looking to rent instead, expect an average of $789 monthly. Think of them as the benefits of living in Tennessee.
Maryville, Tennessee, is home to 28,000 people, a town in Blount County whose leading economy is driven by manufacturing, with Sanford Brands and DENSO among the area's top employers.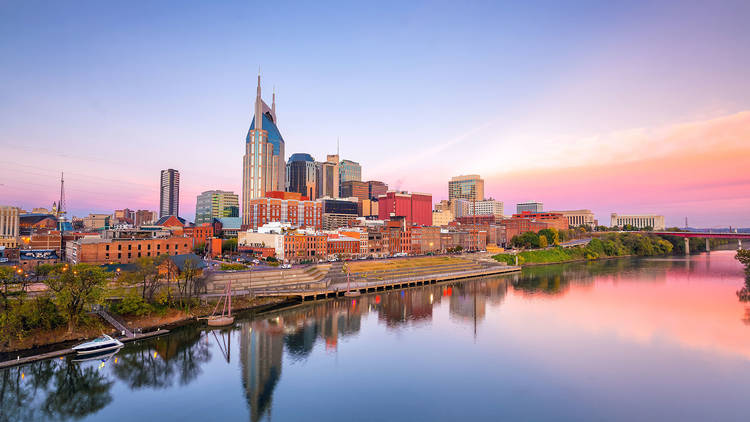 12. Bartlett
Bartlett is a town in Shelby County, Memphis, which became an intermediate station, following which it became a train depot for the Memphis & Ohio Railroad.
Today, the town of more than 58,100 people has grown into a bustling, well-maintained community that attracts everyone from families to professionals and retirees.
The region gives you some good reasons to move here.
The low cost of living combined with a low unemployment rate is a reasonable basis for improving your quality of life. There are several distinct neighborhoods to choose from, numbering around 60, and if you're anything like us, you'll appreciate the sheer number of options.
An example of this is the historic Bartlett Station district, an area filled with some of the area's best shopping, dining, and entertainment.
13. Smyrna
Located about 25 miles southeast of Tennessee is a city called Smyrna.
Once the site of the defunct Stewart Air Force Base, this Rutherford County town has a healthy economy that, like many other places on this list, relies heavily on manufacturing.
For example, Nissan North America is one of the largest employers in a city where household incomes average $53,764, which is about the national average.
While that may sound low, let's not forget that this is a state known for its low cost of living, and this is perfectly reflected in Smyrna, despite being considered one of the best places to live in the state.
The median home value is $149,700, and workers enjoy an average commute of just over 25 minutes.
14. Johnson City
Johnson is a town in Washington County, east of Tennessee.
It is billed as the birthplace of the popular soft drink Mountain Dew and is part of the Tri-Cities region, the other two being Kingsport and Bristol.
Johnson City remains one of the state's biggest favorites, thanks to its idyllic location at the base of the Great Smoky Mountains that you can see from the comfort of your patio.
East Tennessee State University is based here, which infuses a college atmosphere into the town of 65,000. Housing is affordable, with an average rent of $686 and properties averaging $153,800.
15. Kingsport
Kingsport is a town in Sullivan County experiencing remarkable growth in livability and social aspects (think restaurants, local entertainment, etc.).
It's located less than 10 miles from the Virginia state line, and the city of 53,000 remains one of the state's top tourist destinations. It offers convenient access to 15 state parks, six lakes, and five national parks, making it an outdoor enthusiast's dream for visitors and locals alike.
The economy of the city is, therefore, framed mainly by tourism. However, jobs come from other top employers such as Eastman Chemical Company and Wellmont Health System.
The local schools are outstanding, but the crime rate is lacking. Overall, Kingsport remains a popular location, especially among families and people looking for a decent town with a reasonably low cost of living.
It can be found here. The average rent is $582, and the current house price is $135,700.
15 Best Places To Live In South Carolina: 2023
Queen Palm Tree Information: Tips On Caring 2023
Ways To Most Effectively Manage Your Construction Business 2023
Ideas Benefits of Owning a Short-Term Rental Property Business 2023
15 Best latest places to live in Tennessee 2023