17 Best Beaches In The Balearic Islands: Complete Guide 2022
From north to south, Menorca, Mallorca, Ibiza, and Formentera are the four main islands of the dazzling Balearic Islands to the east of mainland Spain. As soon as the spring sun hits these destinations, so do vacationers looking for hidden coves, rocky headlands, and sandy bays.
From bustling spots and local hangouts to gems only accessible on foot, the best beaches in the Balearic Islands are here.
Contents
1. Sa Calobra, Majorca
2. Alcudia Beach, Majorca
3. Cala Benirras, Ibiza
4. Cala Llentrisca, Ibiza
5. Ses Illetes, Formentera
6. Cala Deia, Majorca
7. Cala Comte, Ibiza
8. Cala Macarelleta, Menorca
9. Cala Turqueta, Majorca
10. Formentor Beach, Majorca
11. The Salt Flats, Ibiza
12. Cala Gat, Majorca
13. Cala Mitjana, Majorca
14. Cala Escorxada, Menorca
15. Cala Xarraca, Ibiza
16. Es Vedra, Ibiza
17. Cala Agulla, Majorca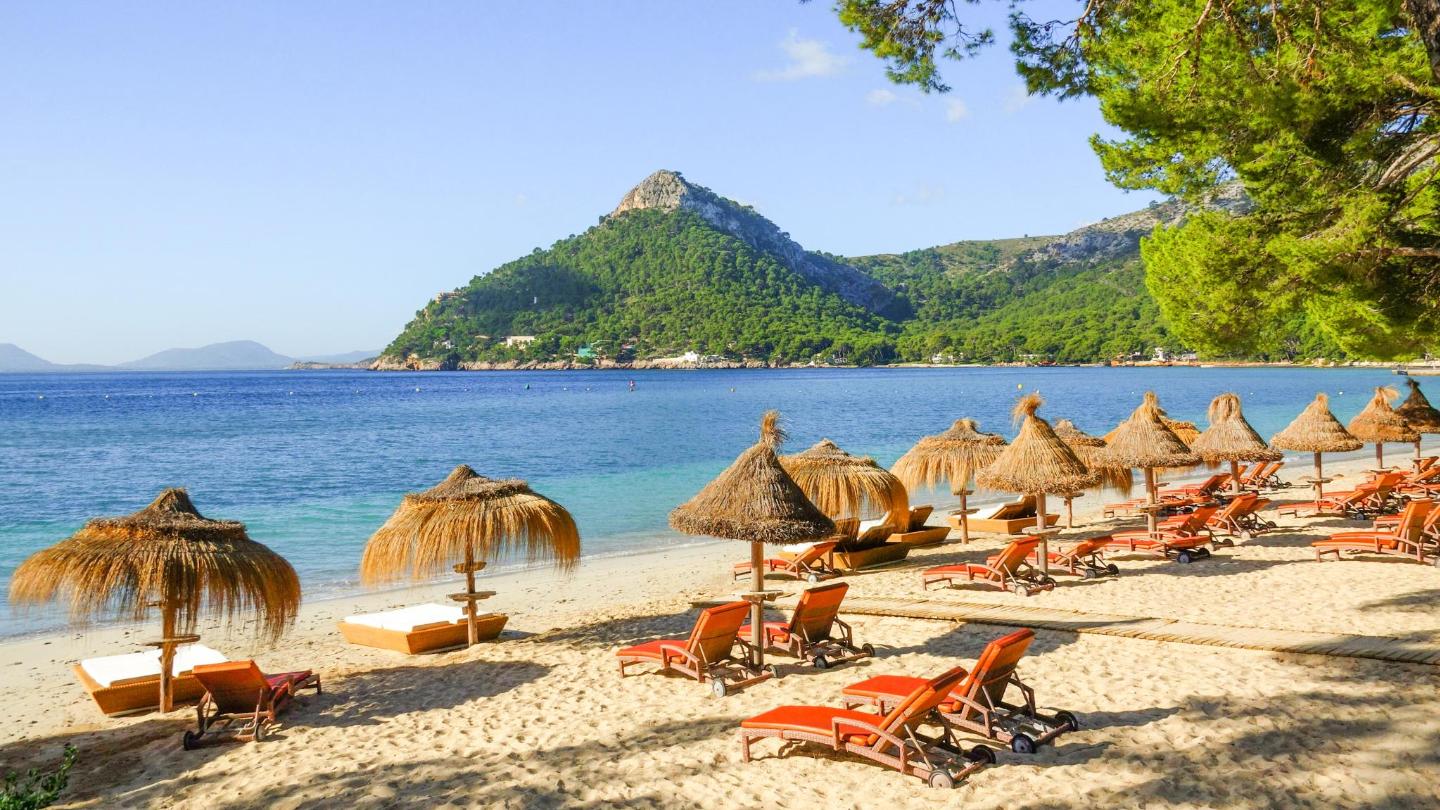 Sa Calobra, Majorca
One of the most beautiful secret beaches in Europe: Sa Calobra, is hidden at the end of a gorge, deep in the Serra de Tramuntana of Mallorca. The brave can take advantage of excursions in the area.
For everyone else, there are plenty of boat trips from nearby resorts (the main one being Sóller) that allow you to take in this unique beauty.
Find out where to stay in Majorca.
Alcudia Beach, Majorca
This 6 km long white sand beach, the largest in the Balearic Islands, is a great attraction for visitors to Mallorca. Backed by purpose-built resorts and dotted with low-key restaurants, bars, sun loungers, and umbrellas, it also has toilets, showers, and changing rooms.
Vendors advertise water sports and cruises, but they're not pushy. If all this seems too much for you, stroll south to the quieter Playa de Muro, dotted with dunes, pine trees, and juniper bushes.
Cala Benirras, Ibiza
Famous for its spectacular sunsets and drumming sessions that last well into the night, Benirrás is an authentic Ibiza experience. This blissful sandy beach and its hippy market attract drummers, dancers, guitarists, fire-eaters, and curious tourists all summer long on the rugged north coast.
It is a protected coastline, so there are no hotels, and a nature reserve backs the beach. The market is held on Tuesdays, Fridays, Saturdays, and Sundays from May to October, and the biggest and best night of drumming and old school Ibiza atmosphere is Sunday.
It may interest you: Canary Islands: the 7 islands and their attractions.
Cala Llentrisca, Ibiza
Llentrisca is an atmospheric little gem on the quiet southwest coast of Ibiza. There is a small car park about 3 km beyond the town of Es Cubells, but you will need to ask permission to drive past the barrier. From there, it's a steep and demanding path to the pebble beach, but it's all worth it.
You will be greeted by the view of a traditional fisherman's cove with a couple of shacks and small, dilapidated wooden jetties that line the blue sea. Peaceful, unspoiled, and perfect for a day of lazing around (make sure you bring supplies).
Ses Illetes, Formentera
Tiny Formentera is a favorite day trip from Ibiza, and this long stretch of soft white sand with pretty islets dotted along the shoreline is a big part of its appeal.
Shallow turquoise waters lap gently on both sides of the narrow peninsula, with seashells and coral scattered along the shoreline. Ses Illetes is undeveloped mainly but gets very busy in high season so go early to get the best spot.
Cala Deia, Majorca
Although it is no longer the secret beach that it was, the pebbly cove of Cala Deià still retains its quality of a dream hideaway. A stream of boat ferries wealthy passengers from offshore superyachts to dine on the terraces of Ca's Patro March, the seafood restaurant made famous by its appearance on the television series The Night Manager.
Meanwhile, vacationers bathe in the blue bay, and daring children jump from the rocks into the water. Bring something comfortable to sit on (locals set up early with loungers), and bring your best sunglasses for people-watching.
Cala Comte, Ibiza
With its spectacular rock formations, sand jetty, and shallow turquoise waters, Cala Comte's unique geography makes it one of the most beautiful beaches in Ibiza, especially if you can visit outside of the busy high season. It is also ideally situated to enjoy incredible sunsets.
Cala Macarelleta, Menorca
Menorca is full of blissful bays with the most beautiful electric blue waters and bone-colored sands. The twin bays of Macarella and Macarelleta, wedged between cliffs dotted with pine trees, are possibly the prettiest spots on the island (if not in the entire Mediterranean).
Find out where to stay in Menorca
Cala Turqueta, Majorca
Once you've negotiated the narrow roads and found a parking space (not guaranteed in the summer months), a short walk takes you to an arch of powdery white sand in a steep-sided gorge with dense forest. Sides.
It may interest you: 15 best beaches in Alicante
This cove's clear, shallow waters on the southwest coast are sheltered from the wind and perfect for snorkeling and children playing and swimming.
Formentor Beach, Majorca
The Formentor area -on the north coast of Mallorca- is home to the most impressive and dramatic landscapes on the island. Cap de Formentor is famous for its lighthouse and winding curvy roads. But it's worth stopping at Formentor's blue flag beach for its panoramic views and shallow waters.
The Salt Flats, Ibiza
The most emblematic beach of Ibiza is the one with the great sand and blue sea of ​​Las Salinas. You'll find a lively scene at Las Salinas, where hippie vibes have morphed into laid-back chiringuitos nestled among the tall trees of the surrounding nature reserve.
Cala Gat, Majorca
The picturesque Cala Gat is small but perfectly formed. This picturesque beach is well worth the short walk from the nearby resort of Cala Ratjada for its intense turquoise sea and enchanting surroundings.
Cala Mitjana, Majorca
Another of the most attractive points of Menorca is the beautiful pair of coves, Cala Mitjana and Mitjaneta, which can be visited on foot from the nearby Cala Galdana (which is not a wrong beach in itself).
You won't believe the watercolor here; you could be in the Caribbean if it weren't for the pine trees and rock formations so typical of this area.
Cala Escorxada, Menorca
You can get to this secluded bay on the south-central coast of Menorca in two ways. Climb the pine-clad cliff tops along the Camí de Cavalls from Binigaus or Cala Mitjana, which takes around an hour. Or, take a boat from nearby Sant Tomàs.
If you're going to walk, wear sneakers and if you plan on swimming (who wouldn't?), wear water shoes, as there are sharp rocks under the water. Along with a sense of adventure, bring your provisions. Even in the height of summer, there are likely to be very few people here.
It may interest you: 55 places to see in Spain
Cala Xarraca, Ibiza
Ibiza may be best known as one of the Mediterranean's top party destinations, but it offers much more than the best bars and nightlife in the Balearics.
Cala Xarraca beach is a paradise for diving lovers; With its picturesque bay of crystal clear blue waters, flanked by verdant forests and rocky paths, you'll almost feel like you've stumbled upon your private beach.
Es Vedra, Ibiza
With a height of 400 meters, the top of this wild island located off the coast of Ibiza is impressive and worth a visit, especially during sunset or sunrise, when the sun's golden rays color it.
Famous in ancient Greek mythology as the home of shipwreck-causing mermaids, the rocky atoll is surrounded by several white-sand beaches.
To avoid the same fate as those ancient sailors, drop anchor in one of the nearby bays and have your crew take you to the shores of es Vedrà or admire the view from your deck.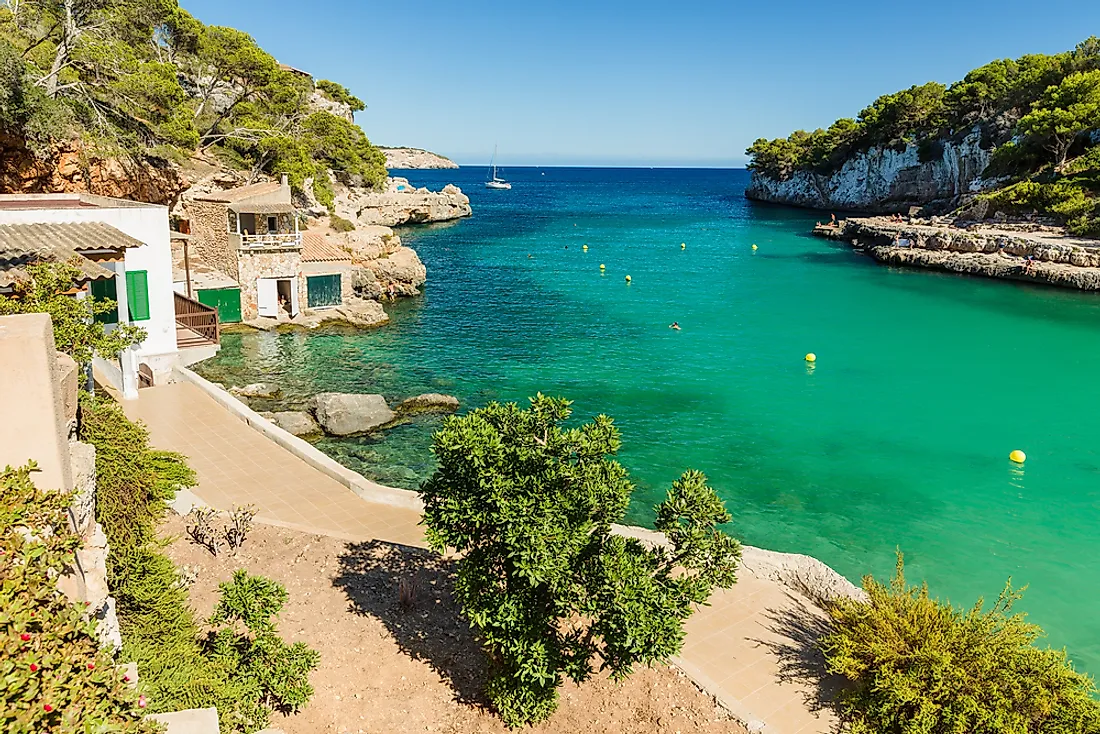 Cala Agulla, Majorca
Largely untouched thanks to its protected status, Cala Agulla is a 500-meter stretch of superfine, pure white sand. Cala Agulla is lost along with Capdepera and Cala Ratjada in the northeast of Mallorca and is the largest beach on the eastern end of the island.
The shallow waters are crystal clear and ideal for rowing, snorkeling, or swimming, but that's not the only draw. The quiet beach is also incredibly picturesque, surrounded by thick pine forests and overlooked by the mountain range of the Llevant Natural Park.
There is also a restaurant, a beach bar, and a water sports equipment rental shop to keep visitors busy.
If you have been left wanting more, take a look at the best beaches in Spain. Pretty! By the way… What do you think of the best beaches in the Balearic Islands? Do not forget to leave your impressions in the comments.
15 Best Beaches In The Canary Islands 2022
20 Best Beaches in Cyprus for Soaking Up the Sun 2022
Where to stay in Santorini: Best Towns & Hotels 2022
Where to Stay in Naples, Italy: Best Areas & Hotels 2022
17 Best Beaches In The Balearic Islands: Complete Guide 2022