16 Best Beaches In Poland To Visit In 2022
Poland has 500 km of fine sandy coastline and has invested heavily in developing its infrastructure. To spend the holidays, you can choose between small fishing villages in the middle of almost untouched nature, as well as time-honored seaside resorts that seduce you not only with bathing fun but also with historical sights.
Another advantage of the best beaches in Poland is the still relatively low prices, which make a relaxing holiday with sun, sand, and sea affordable even for the smallest budgets. Whether they are couples, travelers with dogs, or families with children, you will find a destination to your liking.
Contents
1. Swinoujscie Beach
2. Kolobrzeg Beach
3. Leba Beach
4. Rewaler Beach
5. Brzeźno Beach in Gdańsk
6. Sopot Beach
7. Orłowo Beach in Gdynia
8. Lubiatowo Beach
9. Jastarnia Beach
10. Miedzyzdroje Beach
11. Ustka Beach
12. Karwieńskie Błoto Beach
13. Hel Beach
14. Krynica Morska
15. Honey
16. Debki Beach
0. More information about beaches in Poland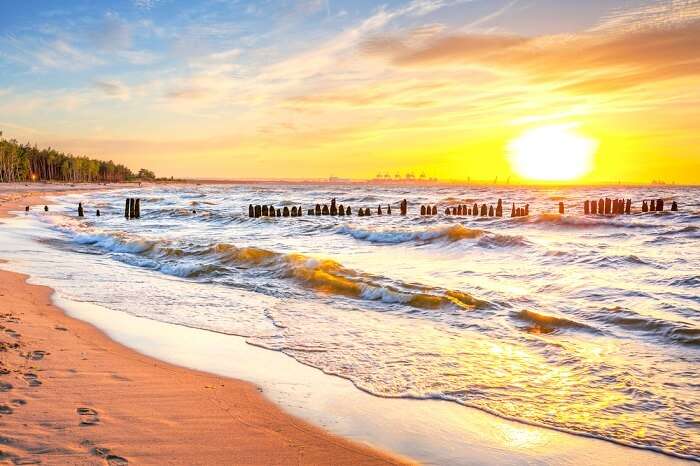 Swinoujscie Beach
Yes, I don't know how to pronounce it either, but Świnoujście beach is regularly rated as the best beach in Poland.
Świnoujście is situated in the extreme northwest of Poland, practically on the German-Polish border. The nearest airport is Szczecin, and it takes about two hours to get from the airport to Świnoujście.
The beach is one of the widest in the country, at over 205 meters wide, and is around 10 km long, meaning you're sure to find a good place to throw up your towel on the sand and sunbathe. Like all other Polish beaches, Świnoujście boasts white sand beaches and has been named the cleanest in Poland for more than a decade.
It also has a very shallow and moderate drop into the water, perfecting swimmers of all levels.
If all this isn't enough to convince you, the beach regularly records some of the hottest water temperatures in Poland, with temperatures sometimes reaching 26 degrees Celsius.
Świnoujście Beach also boasts the longest stone pier in Europe, at the end of which is a lantern-shaped lighthouse that helps ships enter the nearby harbor.
Kolobrzeg Beach
It may not be the most accessible beach in Poland, as it is almost two hours by car from Szczecin and more than three hours from Gdansk, but if you are lucky enough to be in this area, you should go to this beach.
Kołobrzeg is one of those lucky beach resorts that doesn't have to rely solely on "beach tourists." The city is also well known as a seaside resort and attracts many visitors from Northern Europe.
Although the beach is great to spend a few hours, there are also many other things to explore, as Kołobrzeg has a somewhat developed tourist infrastructure. There are plenty of waterfront bars and restaurants, a lighthouse to explore, statues to admire, hotels to stay in, and a pier to take in the views.
Leba Beach
Łeba Beach is typical of the other beaches in our top ten, boasting clean, white-sand beaches and a strip of pine forest that acts as a welcome refuge when the sun goes down. Too intense.
There are many things to do here, with organized activities for children and equipment for those who love water sports.
There are also some impressive dunes in Słowiński National Park, a few kilometers away but worth seeing if you're in the area.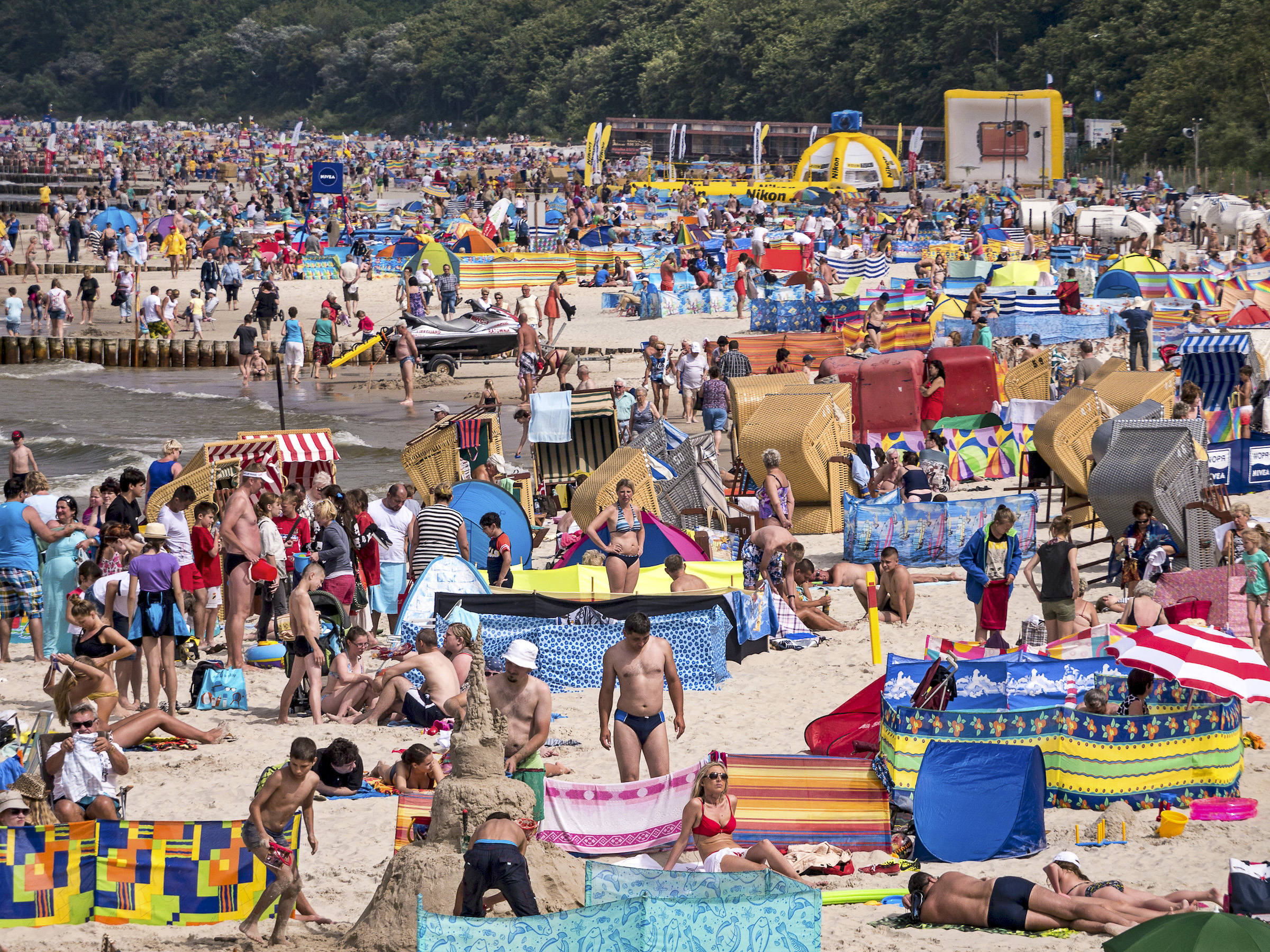 Retailer Beach
Rewal Beach is very busy in summer and attracts a young crowd, mainly attracted by the low prices and the wide range of water sports and activities, such as beach volleyball.
If you want to enjoy the 300 meters of coastline of the small spa town of only 700 inhabitants with more tranquility, it is best to plan your stay for spring or autumn.
It may interest you: 20 dishes of typical Polish food
Relaxing walks on the sandy beach await you, and excursions to the neighboring spa towns, such as Niechorze.
Brzeźno Beach in Gdańsk
In the north of Poland, the capital of the Pomeranian Voivodeship welcomes culture lovers and bathers, and sun worshipers.
Stroll through the picturesque Old Town with St. Mary's Church, Neptune's Fountain, or the Long Market, and then treat yourself to some relaxation time at Brzeźno Beach.
Active vacationers can play football and volleyball here until late at night. Families romp on the plays, various trampolines, and slides.
Sopot Beach
Sopot Beach is high on our list because it is easily accessible to most tourists who fly into this area for a city break and is perfect if you are looking for a beach holiday in Poland. Gdansk airport is only 25 minutes away, and Gdynia is the same distance.
Sopot is one of the most popular resorts for Poles and has been a trendy holiday hub for almost a hundred years, so you can expect to find dozens of hotels, bars, restaurants, and shops to keep you entertained.
There is a lot to do around here, and despite its popularity, it's always possible to find a quiet spot.
There is a promenade for walkers and a cycle path along the beach, and there are numerous bars located right on the coast.
There are also two luxury hotels practically on the sand, the Sheraton and the Grand Hotel Sopot, which offer magnificent sea views from their rooms if your budget can stretch that far.
Sopot is also famous for having the longest wooden pier in Europe ("Molo"). You have to pay a small fee to access it, although it is free out of season. The dock is the heart of Sopot's beach life, and although it is just a pier with no attractions, it is a trendy place for people to hop on and off and enjoy the views.
Orłowo Beach in Gdynia
Already frequented by Polish kings, Orłowo beach is perhaps the most beautiful in Gdynia.
Ancient Gdynia forms a triple city with Sopot and Gdansk. You can see how the anglers pull their boats ashore in the morning on the beach.
The boardwalk, built in the 1930s, is also charming. You will also find the beach theater, where events are held in front of a fantastic cliff.
Lubiatowo Beach
Surrounded by dense pine forests, Lubiatowo Beach is incredibly close to nature.
Here you can walk for miles on the fine sand or enjoy the peace. The local restaurants are famous for their fresh fish. If you want to cast a rod yourself, this is also the right place.
Another attraction is Poland's second-largest shifting dune, which moves several meters to the east every year.
Jastarnia Beach
Jastarnia beach awaits visitors on the Hel peninsula. Especially water sports enthusiasts will find an excellent spot amid crystal clear blue waters, which is considered hot among kites and windsurfers.
Enjoy a cool drink at one of the chic beach bars and soak up the Caribbean feel.
If you want to experience the beach life, come in August, when a big fair is held here.
Miedzyzdroje Beach
One of the most popular and well-known beaches on the Polish Baltic coast is the Wollin Peninsula. Little guests have fun on water slides, playgrounds, and trampolines, while adults enjoy beach volleyball or even parades.
In addition to the beach, the 400-meter-long pier is also a delight. In summer, well-known artists perform here at festivals.
Excursions to the nearby Wollin National Park, where, among others, sea eagles live, are worthwhile.
It may interest you: 25 places to see in Poland
Ustka Beach
Located about 2-3 hours from Gdansk, Ustka is a trendy beach, especially in the summer season.
The beach is divided into two parts, with the eastern part geared more towards people who want to be entertained while visiting the beach. Here you can find bars, cafes, and food kiosks. Beach and water sports equipment can also be rented, and many rides for the kids to enjoy. The downside to all of this is that it can get hectic at times.
The western part of Ustka Beach is more natural and perhaps more suitable for those who do not like crowded beaches. You can take a ferry from the eastern part or cross a small bridge that spans one of the breakwaters to get there.
Karwieńskie Błoto Beach
Not a place that appears in most guidebooks, but Karwieńskie Błoto Drugie Beach is a true hidden gem. It is practically the northernmost beach resort in Poland, located not far from the Hel peninsula and just over an hour by bus from Gdansk.
As you approach the beach, there is a network of small canals and rivers intersect.
Separating the shore from the nearby towns is a narrow forest that runs the entire length of the beach, offering much-needed shade during the hot summer season. The forest is also a wonderful place to explore and popular with walkers and cyclists.
If you go directly through the forest, you will come across one of the many entrances to the beach. They are all numbered to make it easier to find your way back.
The beach itself is beautiful, and many foreigners seeing it for the first time are amazed that Poland has beaches that could easily be mistaken for those in Florida. Long stretches of soft white sand flow into crystal clear blue waters
Hel Beach
Aside from having one of the most excellent names globally, which allows all you social media-savvy tourists to play the "go-to Hel" pun, there are some great beaches here too.
The Hel Peninsula is a thin finger of land that curls off the Polish coast, and Hel is a small town right on the tip of that peninsula. This doesn't make it easy to get to Hel, but the journey there is part of the fun.
The train takes about 2.5 hours from Gdansk to Hel, while the drive takes about 1.5 hours, depending on the traffic, but as we said, the trip to Hel is something extraordinary.
The narrowest part of the peninsula is at the beginning, and here there is barely enough land for a road, a railway, and a few meters of land with views of the Gdansk Bay on the right-hand side and the Baltic Ocean on the left.
As you make your way down the peninsula, the terrain begins to widen, and houses and bike lanes appear. Then you come across small resorts (which are worth visiting, by the way), some wooded areas, and windsurfing clubs until you finally reach the city of Hel.
Here you'll find plenty of shops and bars to keep you happy, and it's also where you'll discover Hel Beach, which overlooks Gdansk Bay. The beach here is a bit narrow and can be very crowded, but if you cross to the other side of the peninsula, the coastline is more expansive and much less crowded on the Baltic side.
Krynica Morska
This beach is possibly the closest thing to a visit to Russia.
Krynica Morska is located in the extreme northeast of Poland, a short distance from the Russian "enclave" of Kaliningrad. The beach is located on the fringe of a narrow strip of land that somewhat resembles the Hel Peninsula.
It is just an hour's drive from Gdansk, and it is also possible to take a train from Gdansk to Krynica Morska, although you will need a taxi/car for part of the journey, thus lengthening the journey time to almost 2.5 hours.
For a beach that can feel like the end of the world, there are many things to do in Krynica Morska.
The beach itself is wonderfully unspoiled, and although it can get very crowded in high season, the coastline is long enough that you can find some quiet spots.
There is a lighthouse, a pier, lots of things for the kids to do, lots of bars and restaurants, and even the option to visit Russia by getting a temporary visa to visit Kaliningrad (read Jonny Blair's excellent guide on how to apply for a Russian visa).
It may interest you: 10 places to see in Warsaw
Honey
Located between Gdansk and Szczecin, it can take about 2-3 hours by car from Szczecin and 3-4 hours from Gdansk.
We included Mielno in our top ten beaches in Poland's list because Mielno is considered one of the best beaches in Poland if you like paaaaarty! It's not exactly Ibiza, but it has earned a reputation as a great place to party, with plenty of bars, clubs, and restaurants to keep everyone entertained.
Despite being crowded in the summer, the beach is long enough to find space, and, like all good beach resorts, there are plenty of activities to enjoy, including water sports, activity parks, a boardwalk, and a lighthouse.
Debski Beach
Dębki is located an hour and ten minutes by car from Gdansk Airport.
If you are looking for a nude beach holiday in Poland, Dębki may be your answer. There are two beaches here, one geared towards families and one where optional clothing is optional (better not confuse the two areas!)
There are many campsites in the surrounding area and hotels and guest rooms.
The beach is wide and very clean and popular with bathers, as the descent into the sea is very moderate. There is a small town nearby and a pine forest that provides welcome shade for scorching sunbathers.
More information about beaches in Poland
Poland beach vacations may not be the most apparent vacation idea, but Poland does have some great beaches.
White sand shores are ubiquitous on Polish beaches and are usually very clean. It is not uncommon for pine forests right on the edge of the beach, where people can enjoy exploring along trails.
Many beaches in Poland can get very crowded in the high season, but you can always find an area away from holidaymakers to enjoy some peace.
On the contrary, Polish beaches are set up to entertain tourists if you want to be in the middle of all the fun. Children's activity zones, beach volleyball, water sports equipment rentals, and fishing are some things you will see. As the Baltic Sea is virtually tideless, many beaches build permanent beachside bars or restaurants; for example, in Sopot, the world-famous Grand Hotel is just three steps from the sand, while some nightclubs turn parts of Sopot beach into an open-air party spots.
Summer is not the ONLY time to enjoy the beauty of the Polish coast. Spring and fall can still be very hot and less crowded as everyone is back at work. Even winter has its charm as part of the sea.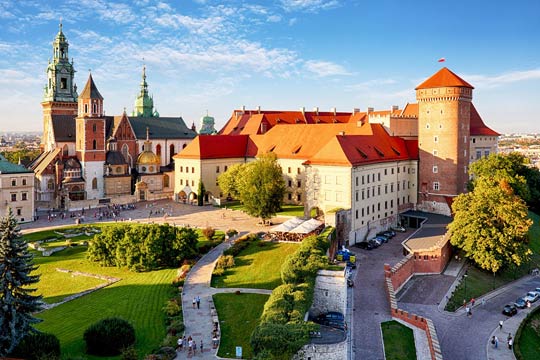 Can freeze, which is an unforgettable sight.
Do not forget that even if you are not lucky enough to visit northern Poland, you can still enjoy beach life in other parts of the country, as there are many urban beaches in Poland, such as Warsaw and Wrocław.
Hopefully, whichever part of northern Poland you visit, you'll find time to visit the beach. You will not regret it.
Top 15 Beaches In Norway You Must Visit in 2022
Where to stay in Ibiza, Spain: Best Towns & Hotels 2022
9 Best Beaches in Russia You Must Visit in 2022
12 Most Beautiful Beaches In Germany 2022
16 Best Beaches In Poland To Visit In 2022