Want Safety Of children In Swimming Pools? Read On!
The little ones in the house are fascinated by swimming pools and usually spend a lot of time in them during the bathing season. If you want to ensure that they enjoy safe leisure without setbacks, it is essential to implement different security systems in swimming pools.
A swimming pool is a source of fun and entertainment for the whole family, especially the little ones. But it also hides a sad reality: every year, there are 856 accidents involving children up to 14 years of age in swimming pools; and 60% of them are under four years old, according to data from the National Safety Council of Illinois, United States. Fortunately, safety in children's pools has evolved recently, and the figures have improved.
Safety of children in swimming pools
These 2005 statistics would be lower today, easily extrapolated to any similar period, because of traditional measures, such as non-slip floors, protective covers, or perimeter fences. Other more modern, sophisticated ones have been added, for example, access and dive alarms. That prevents children from entering the pool without adult supervision, thus guaranteeing protection in a children's pool.
Here are the best ways to increase the safety of children in swimming pools. Read on to assess the best options to improve the safety of children in swimming pools.
Light up the pool
An excellent alternative to prevent accidents with children in swimming pools is to illuminate them efficiently. Poor lighting can make the bathing experience unsafe for children, who can experience slips, falls, and accidents.
Halogen lights, LED bulbs, or fiber optic lights are good options. These lights will increase visibility and safety for children, pets, and other family members. The rays increase visibility and add a flirty touch to swimming pools and the home's exterior.
In this way, they are an excellent alternative whether we are going to use the pool at night and want to be able to be attentive to the little ones in the house at all times or if our pool does not receive much sun or is in an area where it usually gets dark. Right away, we want to protect the little ones in the house from accidents and falls.
Place protective fences
Another good alternative to increase the safety of children in swimming pools is installing protective fences. Safety barriers and walls allow you to close small, medium, and large pools and their close perimeter.
It is an alternative that prevents children from sneaking into the pool unattended because they are persuasive and, at the same time, act as a physical barrier. Although the fences can jump, they are a very efficient security measure for homes with children since they represent a first protective layer that can be combined with other options, such as alarms or covers.
It is essential to choose fences that are more than a meter and a half high and that children will not be able to climb. They should also not have significant holes to prevent children from getting stuck. Modular fences are best known since they can be easily assembled and adapted to all types of spaces.
They are an excellent alternative because they can also combine with alarms and efficient lighting to prevent accidents. When we locate them, it is essential to warn the little ones in the house of the importance of not crossing the protective fence if there are no adults nearby who will be able to help them or protect them from any accident.
Cover the pool
Another excellent alternative is to use isothermal covers, tarps, or a thermal pool blanket to cover the pool. These covers keep the water clean and are ideal for preventing children from entering the pool outside of the bathing season or when we are not attentive to watching them.
Swimming pools are most dangerous for children when no one uses them and adults cannot protect the little ones. Covering the pool with a moon will increase the safety of the little ones in the pools. They are simple accessories to install, maintain the temperature of the water, keep it clean, reduce its evaporation and help save.
Undoubtedly, it is the definitive measure to increase the safety of children in swimming pools. The fences can serve as a dissuasive measure and physical barrier, but if the children manage to reach the water.
An accident could still occur, so a cover, tarpaulin, or thermal blanket for the pool is an option that will allow us to keep them safe.
At the same time, it will help us save, ensure that the pool is kept in optimal cleaning conditions, and maintain the perfect temperature in the pool.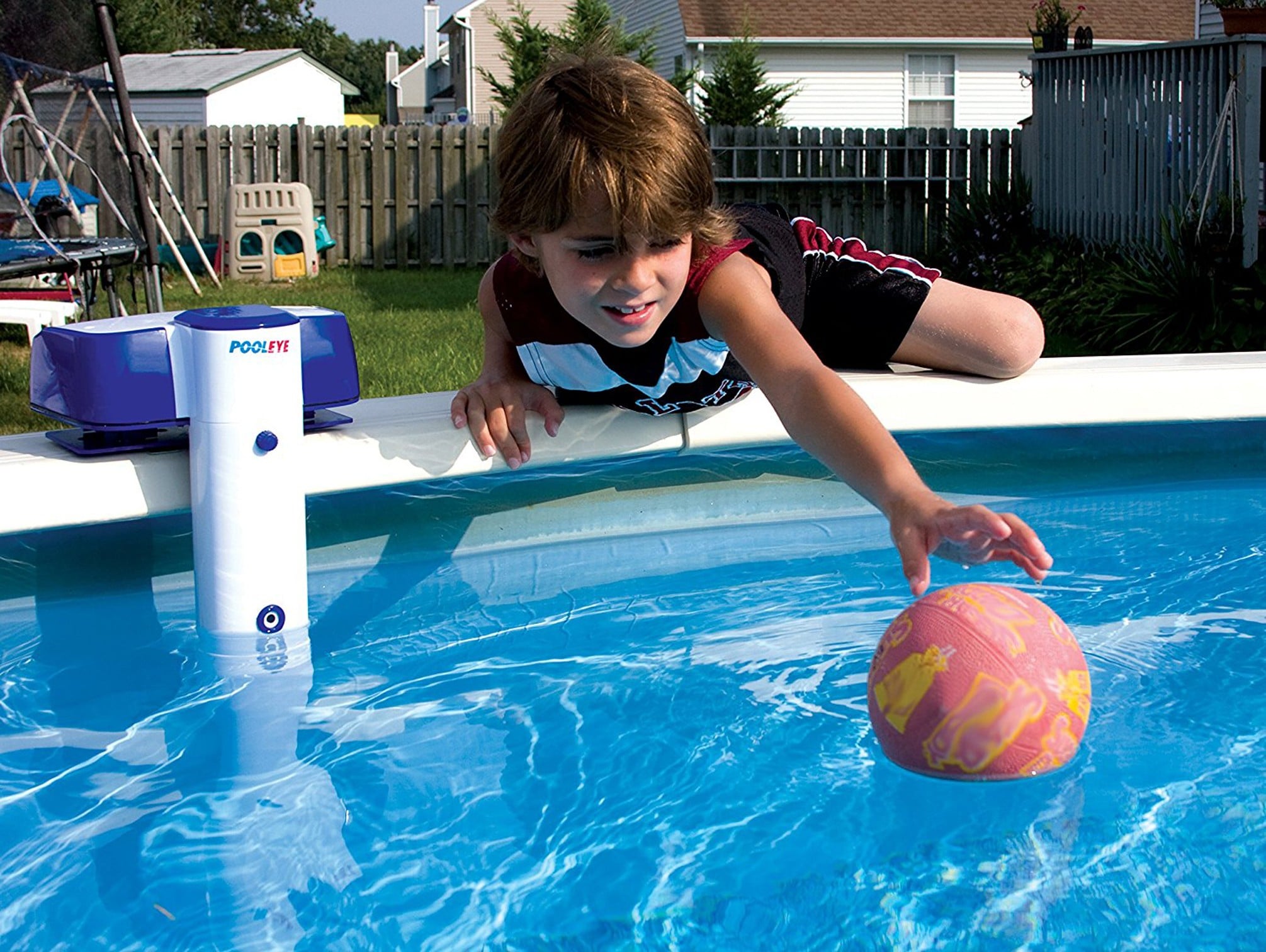 Alarms to protect the pool
An excellent option to increase the safety of children in swimming pools is to implement alarms to protect the pool. Opening alarms are a great measure of child safety for swimming pools since they allow to protect the entrances to the swimming pools that are connected to the house by doors. They can also be implemented in the pool protection fence recommended above.
They are alarms that have a simple operation and are usually activated by movement. Typically their installation is simple, and they can be located by joining adhesives and simple fixing systems. The most sophisticated alarms will require the intervention of technicians and specialists for their installation.
Use reverse detectors
Finally, another of the best alternatives we can implement in our pool to increase the safety of the little ones is using alarms in the water. These alarms are not used to prevent theft but to protect the little ones.
The most interesting is the inversion detectors, which include sensors that detect any movement on the pool surface. These alarms can be installed on the surface or the edges of swimming pools and provide safety plus in swimming pools with children, although we must bear in mind that they can fail as protection for the little ones since they can give false alarms if an object or a pet enters the pool.
Illuminates the pool and its surroundings for children's pool safety
Nothing more rewarding than taking a night dip. Bad lighting, however, would make this experience a dangerous game for the little ones. Susceptible to falls, slips, and other accidents.
It is a beneficial solution at all levels to prevent them by installing LED bulbs, halogen, or fiber optic lights. Because in addition to increasing visibility —and therefore, the safety of the family, pets, etc.—lighting enriches the pool's aesthetics.
Enabling beautiful effects that will embellish the rest of the garden. If you want more information, discover how to illuminate a swimming pool in a safe, colorful and effective way.
Cover the pool in times of disuse for safety in children's pools
Tarpaulins and isothermal covers are commonly used to keep the water free of leaves; insects and other debris are allies of child safety. And it is that the swimming pools increase their danger in moments of disuse without adults who can supervise the children's activity.
Covering its surface with a tarp or cover is, therefore, a simple but effective action to improve the protection of a paddling pool. Made of polyethylene, this accessory is easy to implement.
It maintains the temperature of the water and reduces its evaporation, favoring savings and energy consumption by reducing the dependence on skimmers, treatment plants, and chlorinated products.
In the Modrego Hogar catalog, you will find various sizes, features, and brands of pool covers.
Conclusion
The fences and security barriers allow for delimiting small, medium, and large swimming pools, including their immediate perimeter. This solution limits access to children in two ways. Persuasive because its mere presence reminds the little ones that bathing is prohibited without adult supervision. Active, since they act as physical barriers.
Although fences are not impossible, they are the most effective safety measure in children's pools, providing the first layer of protection, which in combination with others (covers, alarms, etc.), allows to 'shield' a pool.
It is recommended to choose fences that exceed one and a half meters in height; without handles or crossbars that make it possible to climb. It also shouldn't have cavities bigger than a golf ball; Otherwise, children could stick their arms and legs and get stuck. Modular-type fences are popular because they adapt to the available space, joining together like Lego bricks.
Recent Posts
15 tips that work to prevent stretch marks during pregnancy
What is the best Godzilla toys?
Best Tulum all inclusive resorts & Hotels Travelocity 2023
5 ways to increase the safety of children in swimming pools