11 Best Hot Springs in California: Complete Guide 2022
There is nothing more relaxing for the body, soul and mind than spending time in the healing mineral waters of a natural hot spring.
A perfect thermal experience can also include a mud bath to cleanse the skin. Many hot springs resorts and locations are scattered throughout California, offering a wide range of natural and aquatic spa experiences.
Bathers can choose from five-star luxury hotels with their springs, like the Fairmont Sonoma Mission Inn near San Francisco, or remote, natural hot springs like Sespe Hot Springs near Ojai, which can only be accessed access through a 16 km walk.
From Napa Valley in the north to Coachella Valley in the south, check out our list of California's best natural hot springs. Note: Some establishments may be temporarily closed due to current global health and safety issues.
1. Desert Hot Springs
This southern California desert resort town is just outside Palm Springs and about two hours east of Los Angeles. There are more than 20 hot springs at Desert Hot Springs (the most extensive collection of hot springs in the US), most of which welcome both day visitors and overnight guests.
A day spa at Desert Hot Springs can be a fun activity while visiting Palm Springs, as it's only a 20-minute drive from downtown.
Desert Hot Springs mineral hot springs are unique because they are odourless (some elsewhere can be a bit stinky due to sulfur content). They are also special because the area has both hot and cold springs.
The nearby Morongo Grand Canyon Preserve is a vast open space with miles of hiking and mountain biking trails for outdoor activities. The city is also about 30 minutes from Joshua Tree National Park.
2. Wilbur Hot Springs
Wilbur Hot Springs is a historic solar-powered mineral hot springs complex in Northern California that first opened in the late 1800s. It's in the town of Williams, about 90 minutes from Sacramento (by car) and about two hours from San Francisco. 
The hot springs are experienced in Japanese-style onsen structures, some of which are clothing optional. There is also a spring-fed and heated swimming pool and a dry sauna. There is even a geyser on site.
Aside from the hot springs, there are yoga classes and experiences and appearances by guest chefs and other food events. A range of massages and healing treatments are offered. The complex is a digital technology-free zone: there are no mobile phones in public areas.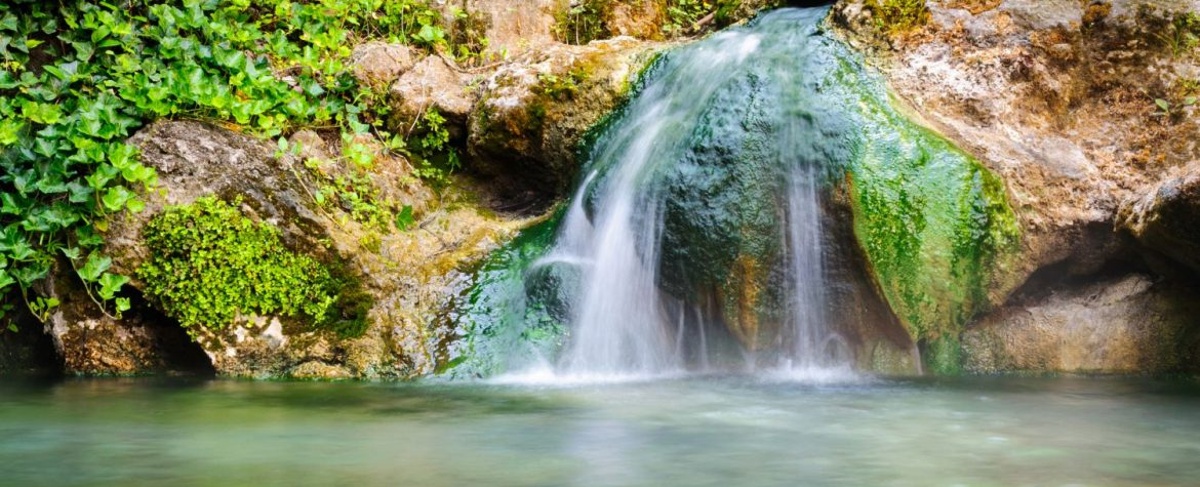 Beyond the springs, it is a natural retreat and a centre for spiritual and personal development. If you prefer to cleanse your soul by hiking (or mountain biking), the area is also part of a 1,800-acre nature reserve.
3. Sycamore Mineral Springs
The Sycamore Mineral Springs Resort & Spa is located in the Californian town of Avila Beach, about 15 minutes from San Luis Obispo, off Highway 101. It has 72 rooms and suites, as well as a three-bedroom casita.
All accommodations have private hot tubs and private balconies or patios. The resort is a 100-acre estate, so there is plenty of green space and hiking trails.
Sycamore offers 23 outdoor hot tubs with naturally heated mineral water and a spring-fed lagoon pool (with a waterfall). Other wellness activities like yoga and pilates are offered, and the resort has a large spa that offers several skins, beauty, and body treatments.
The Sicomoro is home to the Jardines de Ávila restaurant, a popular place to eat with a seasonal and locally sourced menu (some things from the resort's one-acre chef's garden).
For fun, drive to nearby San Simeon, William Randolph Hearst's sprawling mountaintop estate, for fun.
4. Beverly Hot Springs
Did you know that there is a natural Southern California hot spring in the heart of the crowded city of Los Angeles? Beverly Hot Springs is in Koreatown, halfway between downtown Los Angeles and Beverly Hills.
The spring, discovered during oil drilling in the early 20th century, has alkaline water rich in baking soda at 95-105 degrees Fahrenheit (35-41 degrees Celsius).
Water has many compounds and minerals, but baking soda is the same compound found in antacids, which is why water has also been a popular drink for its therapeutic effects.
The day spa was built over the spring and opened in the 1980s. There is a natural hot spring pool, a cold plunge pool, a eucalyptus-infused steam room, and a dry sauna.
In addition to the waters, Beverly Hot Springs also offers several beauty treatments and massages. Opt for the bamboo fusion massage, which includes gently using heated bamboo sticks to knead away your tension.
5. Calistoga
Calistoga is a hot springs town in Northern California. It is in the famous Napa Valley, a few hours north of San Francisco, and has been a famous hot springs resort near San Francisco since the first hotel opened in 1862. It catered to wealthy San Francisco residents of the era, many of them enriched by the recent California Gold Rush.
There are many hot springs around the city, and mud baths are also very popular here. These are "baths" where you soak in hot, volcanic, mineral-rich muddy soil.
You can choose from some accommodation options, from small hotels, some with their springs, to five-star luxury resorts. Many Calistoga hot springs are day-use, with no lodging.
The city retains a small-town feel (fast-food chains are banned here), and it's a fun place to getaway. Calistoga even has its geyser, known as Little Old Faithful or California's Old Faithful, which erupts every 40 minutes.
6. Grover Springs
These Northern California hot springs are part of Grover Springs State Park, located near Lake Tahoe in the High Sierra Mountains.
The low sulfur water (no rotten egg smell) comes from six springs and feeds two concrete pools. One of the pools is hot, at 148 degrees Fahrenheit (64 degrees Celsius), perfect for soaking, and the other is more relaxed, ideal for swimming.
The state park includes miles of hiking trails and nearly 100 campsites. The pools are open year-round but can be difficult to access during the winter as it snows heavily in the mountains. Grover is also a hot springs destination near Sacramento and Reno.
7. Fairmont Sonoma Mission Inn & Spa
Sonoma is a beautiful farming town, one valley away from California's Napa Valley. An hour from San Francisco, this luxurious Bay Area spa is unique because the Fairmont Sonoma Mission Inn's Willow Spring Spa has its own ancient thermal mineral spring.
The thermal spring begins 335 meters below the surface of the earth. Above the spring is a large, luxurious spa and luxury resort complex. Local Native American tribes used the springs for thousands of years and now feed the resort's hot tubs and five swimming pools.
Day guests are welcome at the Willow Spring Spa, and access to the spa is free if you undergo most of their massage or beauty treatments (minimum spend required).
The spa is known for its European bathing ritual, inspired by the traditional bathhouse experiences of many countries. This aquatic adventure begins with an exfoliating shower, followed by a therapeutic hot bath, then a dip in a heated pool with Jacuzzi jets, then a mega shower, a visit to a herbal steam room, time in a traditional dry sauna and finally, a relaxation room.
The Fairmont Sonoma Mission Inn & Spa also has the Watsu Pool, where floating massages are performed.
8. Sierra Hot Springs
The Sierra Hot Springs Resort & Retreat Center is a non-profit resort focused on wellness and healing. It's close to Lake Tahoe (a 90-minute drive) or about a four-hour drive from San Francisco.
The accommodation (of course, you can also visit it for just one day) includes a large accommodation building with rooms, suites, and several camping areas. You can also stay at the Globe Hotel, a historic hotel located just minutes away in Sierraville.
The mineral pools are open 24 hours a day. There is a giant geodesic dome, the Dome of the Temple, and inside it, there is a sand-bottomed hot pool and two cold pools.
Outside, a large heated pool with a large solarium and a dry sauna. Out is also the heated meditation pool, with a faux rock landscape and sand bottom. In European fashion, the collections are clothing optional, but the resort is not.
There's a lot of programming here: many well-known spiritual and healing professionals and speakers offer sessions and seminars at the resort, and there's always a complete program of workshops.
9. Vichy Springs Resort
First opened in the mid-19th century, the historic Vichy Springs Resort combines a rural boutique hotel with a Northern California hot springs resort. You can spend the night in luxurious accommodations (individual rooms or cabins) or visit during the day. Vichy Springs is in Ukiah, about two hours from San Francisco.
The hot springs here are unique in that they are the only Vichy-style natural hot and carbonated mineral baths in North America. Vichy is a city in France famous for its carbonated mineral baths since the time of the ancient Romans.
There are 14 mineral baths at Vichy Springs, four outside and ten inside. A large spring-fed and heated swimming pool and an unheated lap pool (seasonal). The resort even has a natural cold pool (swimming hole) under a waterfall, a 10-minute walk through the woods.
There are miles of hiking trails on the 700-acre property. The complex includes a large spa with several massage and beauty treatments.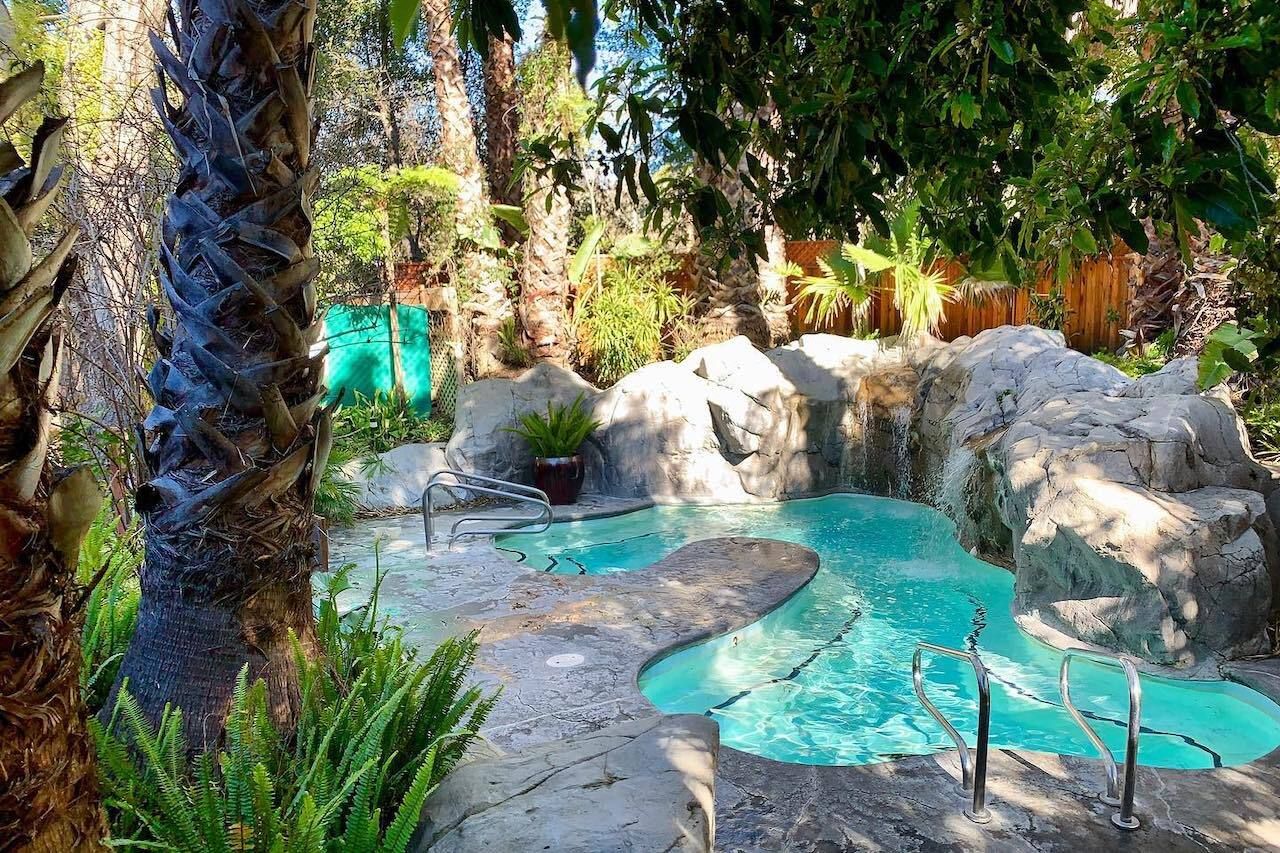 10. Esalen Hot Springs
If you want hot springs in Big Sur, this seaside refuge may be best known for the Esalen Institute and its New Age philosophy and self-help experiences, but it's also home to fantastic hot springs above cliffs and the ocean.
The baths are only open to the public for a unique nighttime bathing experience under the stars. Every night from 1 am to 3 am, anyone can book online to experience the baths. At all other times, only Esalen retreat guests may use them.
The restrooms are located down the hill from the retreat lodge and are situated on various levels. The first level has a large bathroom along with an outdoor massage terrace.
There are several large indoor and outdoor bathrooms on the lower level, along with a few private, vintage claw-foot tubs for individual use. There are also toilets, showers and changing rooms.
There is evidence that the mineral-rich hot springs have been used by Native Americans in the area for more than 6,000 years for the same reason they are used today: their healing properties.
11. Sespe Hot Springs
This remote Southern California hot springs location is nearly 1,000 meters up in the mountains near Santa Barbara. At 194 degrees Fahrenheit (90 degrees Celsius), the springs' water is some of the hottest in California and the nation.
Sespe cannot be reached by car, only on foot or horseback. The shortest trail is a moderate difficulty hike of about 13 km up and down a forest road. The Sespe Hot Springs are part of the Los Padres National Forest near Ojai, about two hours north of Los Angeles.
The openings of the hot springs are all in one big valley: the water forms a stream that gets colder the further you go from the sources. There are many natural pools and bathing areas to enjoy the water at the temperature you like.
Spring is the best time to visit, as there can be snow in the winter and temperatures soar above 100 degrees in the summer. There are no facilities, but you can backpack in and out, hike, and camp in the area.
The geothermal activity in the area makes the ground warm, although the nights can be cool, making it comfortable to sleep on. There is a 10-mile trail to the springs open to horses, and several local outfitters offer camping packages.
What do you think of the best places to enjoy hot springs in California? Leave your impressions in the comments!
Where are there natural hot springs in Southern California?
Here are some natural hot springs in Southern California where you can relax and rejuvenate your body with healing, mineral-rich water: Desert Hot Springs, Deep Creek Hot Springs, Beverly Hot Springs, and Sycamore Hot Springs.
Where to find free hot springs in California?
Cowley Baths and Travertine Baths are entirely accessible to visitors. You don't need to spend a dollar to access these California hot springs.
Are there hot springs in Northern California?
There are some beautiful hot springs in Northern California that you shouldn't miss. Wilbur Hot Springs, Calistoga Hot Springs, and Sierra Hot Springs are some of the best.
What are the cheap hot springs in California?
There are over hundreds of hot springs in California. Most are pretty expensive. Cowley Baths are an incredible free access option.
Related Searches:
Best Hot Springs In Southern California
Natural Hot Springs In California
Natural Hot Springs In Northern California
Natural Hot Springs In Southern California
Hot Springs In California Map
Private Hot Springs California
Free Hot Springs California
Wilbur Hot Springs
12 Best Hot Springs in Colorado: A Quick Guide 2022
11 Best Beaches in Morocco you need to visit 2022