11 Best Beaches in Morocco you need to visit 2022
Morocco has not only an incredible number of sights but also great beaches. Whether you want to surf or relax, Morocco has beaches for all tastes.
When you think of a beach holiday, you don't immediately think of Morocco, but the country has many great beaches. In addition, Morocco is warm throughout the year: in some regions, up to 300 days of sunshine are guaranteed.
In other words, the best conditions for a beach holiday! With 3,000 kilometers of coastline along the Atlantic and some 400 kilometers in the Mediterranean, there is something for every beach holidaymaker.
There are endless sandy beaches, tiny picturesque bays, strange rocky gorges, seaside resorts with good infrastructures, warm Mediterranean waters, and constant wind in the Atlantic for surfers and those who practice this sport. In addition, you can relax in small port cities or immerse yourself in oriental culture.
Sounds good? I also believe it.
In my article, I will show you the best beaches in Morocco, give you helpful information to find your dream beach, and provide tips on the best hotels by the sea.
Contents [ hide ]
General tips about hotels in Morocco
With almost 3,500 kilometers of coastline, you can imagine that not all beaches in Morocco have accommodation.
But an actual vacation by the sea or a few days of relaxation by the sea means staying with a view of the sea or at least within walking distance of the beach. That is why I have chosen the beaches that have the necessary infrastructure.
How much does a beach hotel cost in Morocco?
Accommodation on the beaches of Morocco ranges from simple surfer hostels to fully equipped holiday homes and flats through small guesthouses and luxury resorts. The price range is correspondingly large.
In general, Morocco is not a cheap destination for hotel prices. A good middle-class hotel with comfortable rooms costs between 50 and 100 euros for a double room, similar to ours. Often in this price segment, there is also a swimming pool, a roof terrace, a restaurant, or a garden in the hotel complex.
Especially at the surf spots, there are numerous cheap hostels and surf camps. There are also very expensive and luxurious spas and wellness centers in the larger seaside resorts.
In addition, there is a large selection of primarily cheap holiday flats in the seaside resorts most popular with Moroccans. They are the preferred accommodation for local families for their summer vacations.
Hotel prices vary by type of accommodation and fluctuate from season to season. The summer months between early July and early September are peak season in popular local resorts.
During this time, not only do accommodation prices rise, but the otherwise quiet beaches often get crowded.
How far in advance should you book a beach holiday in Morocco?
If you book in advance, you can surely get the occasional bargain. Even if you have already chosen a particular hotel, book well in advance.
In general, accommodation in Moroccan resorts is skyrocketing. If you are flexible, you will rarely have a problem finding a room.
Only in the high season, which is the summer months, and Easter, Christmas, and New Year, you should book a hotel in advance, especially in Essaouira and Agadir.
Is it worth staying in a flat, hotel or aparthotel on the beaches of Morocco?
In almost all Moroccan seaside resorts, you can choose between fully equipped flats or hotels. Both have their advantages and disadvantages.
In a hotel, you are well taken care of. They offer room service and a restaurant, and the front desk is there to help you with any questions or requests you have.
Flats are cheaper, and you can cook for yourself flexibly and cheaply. Also, you live more individually, often without much contact with other travelers.
If you still don't want to do without a certain level of service, aparthotels are an excellent alternative.
Several vacation flats are grouped in many seaside resorts in these large complexes. The complex usually has a swimming pool, a reception, and a restaurant.
I have put together some hotel tips for each beach in this article. There is something for every budget, and there is always an alternative.
The suitable beach in Morocco for your holiday wishes
Every tourist has different requirements for a beach.
Some want to enjoy the sun and the sea on the beach.
Others want to eat out in style, walk the boardwalk during the day and enjoy water sports.
Passionate surfers look for the perfect wave, and others value a city with a friendly atmosphere.
This summary shows which beach is the most suitable for each activity:
Kite and windsurfing : Essaouira, Dakhla
Surfing and Surfing: Taghazout, Tamraght
Other water sports : Oualidia, Saidia, Tetouan, Agadir
Relaxation and tranquility: Asilah, Sidi Ifni
For families : Agadir, Saïdia, Oualidia
Sunset: Essaouira, Agadir, and almost all the beaches of the Atlantic coast
Moroccan style : Essaouira, Asilah, Sidi Ifni, Dakhla
Perfect infrastructure : Agadir, Saidia
It may interest you: What is the best time to travel to Morocco?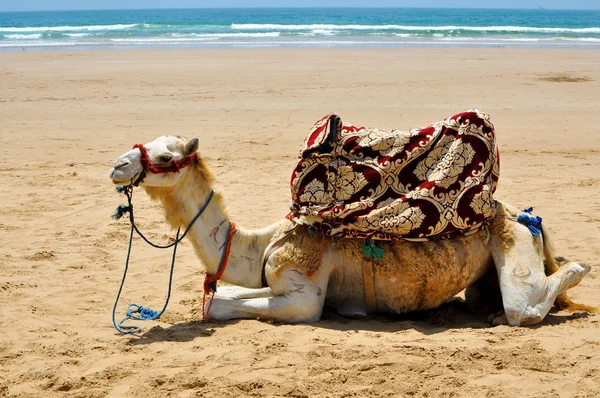 Mediterranean coast of Morocco: the most beautiful beaches and the best hotels
Compared to the Atlantic coast, the Mediterranean coast of Morocco is less touristically developed. Between rocky sections, romantic bays with fine sandy beaches facing turquoise blue waters are hidden again and again.
The most beautiful beaches to spend the night in the Moroccan Mediterranean
Many people think of the Atlantic Ocean when they think of a beach vacation in Morocco. However, accommodation on the Mediterranean beaches of Morocco has several advantages.
The Mediterranean water is warmer than the Atlantic, and the climate is the Mediterranean. It means that it is still pleasantly warm even in winter, and you can swim in the water wonderfully.
A Mediterranean beach holiday is a combination of relaxation and activity. There are numerous offers for water sports.
For diving, the calm waters of the Mediterranean are more suitable. If you want to surf, go to the Atlantic.
You can also combine your holidays in the Mediterranean with nature. The nature reserves and the mountainous interior with picturesque villages are ideal for excursions.
The Moroccan Mediterranean spas are endowed with a good infrastructure. There are numerous hotels, holiday flats, and aparthotels.
Outside of the summer months, the Mediterranean beaches of Morocco are pleasant and empty, as it is mainly the locals who spend their summer holidays here.
These beaches are the best places to stay in the Mediterranean:
Saidia
In the northeast of Morocco, almost on the border with Algeria, is the fine sand beach of Saïdia. The city has long been a popular Moroccan seaside resort.
For several years, the country has invested in its development as an international coastal and tourist center. Numerous hotels, luxury resorts, a golf course, boutiques and restaurants, and a new marina have been built throughout it.
The fine sand beach of Saïdia, more than 14 kilometers long, is one of the most beautiful in Morocco and rightly bears its name "Pearl of the Mediterranean."
Advantages of accommodation on the beach of Saïdia
Flat beach without solid waves, very suitable for children
The tourist infrastructure will rival that of Agadir
Good surf conditions for beginners
Disadvantages of accommodation on the beach of Saïdia
It can be very crowded in the summer months
Away from the hotel complexes, the beach is sometimes dirty.
The offer of mid-range and luxury hotels is limited
Accommodation prices fluctuate a lot depending on the season
Tips for the Saïdia hotel
Good and cheap . Maison d'Hote a Saidia
better . Residence Riad Saïdia
Tamuda Bay, near Tetouan
The 15-kilometer-long sandy beach is a stunning backdrop to the verdant Rif Mountains, some 10 kilometers from the beautiful city of Tetouan.
Between F'nideq and Martial, along the beach are many luxury resorts, neighborhoods of stylish new buildings, and all the infrastructure you need for a beach vacation. You can surf, sail, dive, ride a jet ski or have fun in the water park.
Tamuda Bay is a bit more exclusive than other Moroccan beaches.
Advantages of staying at Tamuda Bay
Perfect for beach and sea activities
You have a wide range of luxury resorts and spas directly on the beach
The interior and the old town of Tetouan are suitable for excursions
Disadvantages of accommodation in Tamuda Bay
Limited access to public transportation from Tetouan
It gets very crowded in the summer months
Exclusive and relatively expensive resort
Hotel tips for Tamuda Bay
Good and cheap. Hotel Marina Beach (Aparthotel) | Jolie Appartement Vue Mer
better . Lilac's Garden Vue Piscine
Luxurious. Sofitel Tamuda Bay
North Atlantic Coast of Morocco: The most beautiful beaches and the best hotels
There are some beautiful sandy beaches on the North Atlantic coast, between the bustling cities of Tangier, Rabat, and Casablanca.
Many are easily accessible for a day trip from the cities. Others are ideal for spending a few days by the sea. Here I present the most beautiful beaches.
The most beautiful beaches to spend the night on are the Atlantic coast of northern Morocco.
Many of the seaside resorts on the North Atlantic coast are very crowded in the summer. It is when many Moroccans spend their summer vacations or weekends on the Atlantic coast, near the big cities.
Outside of the summer months, July and August, it is nice and quiet, and you can relax wonderfully in the seaside towns. Surfing conditions are also suitable for experienced windsurfers.
However, the North Atlantic water is still relatively cool in summer, below 20 degrees. If you want to swim in the ocean, the best time is between June and mid-October.
And what is the best place to do it on the North Atlantic coast? You can spend the night on these beautiful beaches, far from the big cities:
Assilah
The coastal city of Asilah, about 50 kilometers from Tangier, displays an Andalusian-Moroccan atmosphere in the quiet medina, far from the hustle and bustle of tourism. A beautiful sandy beach stretches out in front of the walls of the Portuguese fortress.
In the surrounding area, you can choose from many wide sandy beaches, rock-lined coves, and the surfing beach of Sidi Mugait. They are pretty quiet even in high season.
It may interest you: 14 dishes of typical Moroccan food
Advantages of accommodation in Asilah
You live in an Andalusian-Moroccan environment
You can choose between several sandy beaches in the area
In autumn and winter here you can breathe peace and tranquility, and there are hardly any other tourists
You can eat well on the beach promenade or in the inexpensive typical Moroccan restaurants in the medina.
Disadvantages of accommodation in Asilah
In summer, it gets crowded
There are hardly any leisure facilities, apart from a golf course
Few hotels are directly on the beach
Hotel tips for Assilah
Good and cheap . Christina´s House
better . Riad Oasis d'Asilah | Maison d'hotes Berbari
Luxurious . Asilah 32 (Aparthotel)
Beach in Oualidia
The beautiful little town of Oualidia is known for its oyster farming and is a popular seaside resort for wealthy Moroccans. The sandy beaches sheltered in the lagoon by a peninsula are unique, with shallow waves and calm waters.
However, besides the main beach in the bay, there are other more rugged beaches in front of Oualidia, suitable for surfing and sailing.
Advantages of accommodation in Oualidia
Here you can do a great paddle, kayak, and snorkel
The lagoon is a bird watcher's paradise, and sometimes even the flamingos stop by.
The calm sea is ideal for swimming
There are few visitors between fall and spring
The lagoon is a great place to eat oysters and fresh fish.
Disadvantages of accommodation in Oualidia
In summer, many Moroccans visit Oualidia, and it gets very crowded
Hotel tips for Oualidia
Good and cheap. Dar Sultan (aparthotel) | Le temps perdu (guest house)
Better. Give Beldi | Flats Villa Beida
Luxurious. Les Oliviers (Holiday flat) | The Sultana Oualidia
Middle Atlantic coast of Morocco: The most beautiful beaches and the best hotels
The mid-Atlantic coast between Agadir and Essaouira is also well connected and developed for tourism. Here are the best-known and most popular beaches in Morocco.
The most beautiful beaches to stay on the Mid-Atlantic Coast of Morocco
Between the bathing paradise of Agadir and the famous port city of Essaouira, there are many kilometers of sandy beaches. There are always quiet sections that you can reach from the hotels of the maritime stations.
With their steady winds and good surf, many Mid-Atlantic beaches are Eldorado for windsurfers, kitesurfers, and surfers. The surf spots are well equipped with surf shops, surf schools and surf camps, and cheap hostels.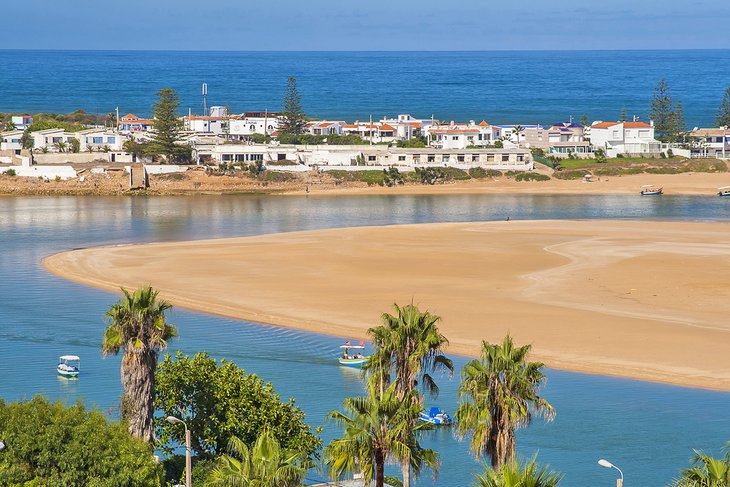 Agadir Beach
The port city of Agadir is the most popular beach paradise in Morocco. Direct flights from Europe conveniently serve the city's airport.
Agadir is also the sunniest city in the country. With 300 days of sunshine a year, your beach vacation is unlikely to come to nothing.
The sandy beach stretches for 10 kilometers and is accompanied by a long promenade with hotels and restaurants and the marina. It offers everything a vacationer's heart desires.
Advantages of accommodation in Agadir
There is excellent infrastructure and numerous leisure activities
Children can safely swim at the shallow beach
You can reach Agadir directly by flight from Germany
Islamic regulations on alcohol and clothing do not apply to tourists here.
At night there is a lot of movement on the seafront and in the city.
Disadvantages of accommodation in Agadir
The city is very touristy and does not have an oriental feel.
It can be noisy in the evenings and at night.
Hotel tips for Agadir
Good and cheap. Blue Waves Surf House | Fleurie Residence
better. Atlantic Hotel | Ecolodge Atlas Kasbah
Luxurious. Le Riad Villa Blanche | Tikida Golf Palace
Taghazout Surfing Beach
About 20 kilometers from Agadir is the opposite of the metropolis: the fishing village of Taghazout was a well-known haven for hippies and dropouts in the 1970s and has retained its laid-back charm to this day.
Taghazout Beach is one of the most famous surf spots in the country, with numerous surf breaks, from the beginner point to the decisive Killer Point point break.
Advantages of Taghazout beach accommodation
Popular surf spot with adequate infrastructure
The relaxed life of surfers in the fishing village
There are many hostels and cheap accommodation
You can comfortably eat in numerous cafes and restaurants
You meet many (German) backpackers and surfers
Disadvantages of accommodation in Taghazout
There is a lot of garbage in the area, and some beaches are dirty.
The capacity is very oriented to surfers.
Hotel tips for Taghazout
Good and cheap. Taghazout Beach (holiday flat) | Kekai Surf House
better. Pension Munga B&B
Luxurious. Paradis Beach Yoga & Spa
Tamraght Beach and Punta del Plátano
Tamraght is next to Taghazout, so the two are often named together as popular surfing spots. Tamraght is less touristy than Taghazout, and the beaches are also cleaner.
However, Tamraght also has excellent surfing opportunities right on its doorstep or at Banana Point, just a few minutes away.
Advantages of accommodation in Tamraght
Surface spots for beginners and advanced surfers and a good surf infrastructure.
You can stock up in nice cafes and restaurants
Tamraght is the calm alternative to Taghazout
Disadvantages of accommodation in Tamraght
In the afternoons, there is little movement
Hotel tips for Tamraght
Good and cheap . The Surf Hotel Tamraght | Dar Sultana
better . Riad Dar Haven
Essaouira Beach
The historic fortified city of Essaouira exudes an extraordinary artistic flair. You can spend a wonderfully relaxed holiday between the white medina, the fortifications, and the traditional fishing port.
It may interest you: What is the best time to travel to Morocco?
There is a 5-kilometer-long sandy beach on the city's outskirts, bordered by a wide area of ​​dunes, perfect for a walk on the beach, horseback riding, or camel riding.
Advantages of staying in Essaouira
The beach is vast and almost empty.
You can combine a beach vacation with culture and art
Essaouira exudes a Moroccan and relaxed air
The constant wind and waves are ideal for windsurfers and kiters
Other surf spots like the famous Sidi Kaouki are in the area
Disadvantages of accommodation in Essaouira
The wind provides a constant cool breeze that can easily make you shiver
Hotel tips for Essaouira
Good and cheap . Jack Apartments | Blue Chems
better . Riad Baladin | Riad Dar Maya
Luxurious . Riad Perle D'Eau | Quiet Villa
Atlantic coast of southern Morocco: the most beautiful beaches and the best hotels
In southern Morocco, the Sahara desert reaches almost the coast. There are equally endless white-sand beaches against the arid and vast desert landscape.
The region has developed in terms of tourism in recent times, but there is certainly enough space for everyone.
The most beautiful beaches with accommodation on the southern Atlantic coast of Morocco
Some coastal complexes equipped with infrastructures are the starting point for other large beaches. Here you will find wonderful tranquility in seclusion.
The beaches are ideal for long, lonely beach walks and a paradise for windsurfers and kitesurfers. But paragliders also find perfect conditions.
However, it is often too cool to swim due to the cold ocean current.
Sidi Ifni and Plage Blanche
The beautiful town of Sidi Ifni is situated on a rocky plateau above the sea and has been revitalized in recent years:
The elegant Art Deco houses of the small town have been renovated.
A promenade has been built.
The number of accommodations for holidaymakers and surfers is increasing.
The city is called, not unfairly, "Gateway to the Sahara," as it is surrounded by barren desert. The sand of the Sahara almost merges with the sandy beaches here.
In front of Sidi Ifni, there is a long beach of sand and gravel. Even more attractive are the surrounding beaches, which you can easily reach from Sidi Ifni. The legendary Legzira beach (see beach no. 10) is 10 kilometers to the north.
The most famous beach is Plage Blanche, 30 kilometers to the south. With 150 kilometers of the finest white sand, it is one of Morocco's most beautiful and longest beaches.
Advantages of accommodation in Sidi Ifni
The Andalusian and original atmosphere in the city
The city is not overcrowded but relatively quiet
accommodation is cheap
You can drink and eat mint tea in small cafes and restaurants.
Disadvantages of accommodation in Sidi Ifni
The water is icy except in summer
The best beaches are a bit outside of town
Sidi Ifni hotel tips
Good and cheap. Marine Logis
better. Maison Xanadu
Legzira Beach
About 10 kilometers north of Sidi Ifni lies a true natural wonder: along Legzira beach, the four large rock gates are a spectacular sight and excellent photo motif.
The beach is considered one of the most beautiful in the country and is popular with surfers for its waves. Another highlight is the paragliding flight over the beach.
Now cafes, restaurants, some accommodation, and a surf shop have been installed in the bay.
Advantages of staying at Legzira beach
The swell is excellent for surfing
The highlight is the paragliding flight over the bay
Great place to take photos
Infrastructure at the front, combined with peace at the rear
accommodation is cheap
Disadvantages of accommodation in Legzira beach
The approach to the beach is adventurous via an unpaved road
Swimming is dangerous due to high waves
Sometimes there is plastic garbage washed up on the beach.
Not much to do at night
Hotel tips for Legzira
Good and cheap. Hotel Beach Club Legzira
Dakhla
Dakhla, an Eldorado for windsurfers and kitesurfers, is situated on a peninsula at the southern tip of Western Sahara. The area is one of the best places to kite, and competitions are held here every year.
The pristine beach and lagoon are home to turtles, seals, dolphins, and numerous migratory birds, including flamingos. The city itself offers everything you need for a beach holiday in true oriental style.
Advantages of staying in Dakhla
Perfect wind conditions throughout the year for surfers, surfers, and kitesurfers
Wide beach with a quiet place for everyone
Oriental style in the city
Perfect for endless walks on the beach
Disadvantages of accommodation in Dakhla
Long drive to the outlying city
Plastic flies near the city
Hotel tips for Dakhla
Good and cheap. Give River Gold | wow, the hotel
better. Kite House Dakhla | B&B La Maison Jaune
Luxurious. The Cricket | Palais Rhoul & Spa Dakhla
If you've been left wanting more beaches, then check out the best beaches in the world. They are beautiful! By the way, What do you think of the best beaches in Morocco? Leave your opinions in the comments.
10 Most Impressive Ancient Egyptian Temples 2022
Hip Abductor Machine Is It Worth Using?
How do I check the balance of a Walmart gift card?