10 Best Beaches In Long Island, New York 2022
Located a train ride from Manhattan, the dazzling shorelines of the Hamptons command all of the attention on Long Island. Although this popular eastern vacation destination boasts some of the most picturesque beaches in the United States, the rest of the island is not far behind in its offerings.
From long stretches of sandy beaches along the South Shore to picturesque tree-lined bluffs overlooking Long Island Sound, plenty of beaches offer family-friendly activities, concerts, dog parks, and hiking and biking trails. Waterfront in all of Nassau and Suffolk counties.
Beach season officially begins on Memorial Day long weekend in May and ends on Labor Day weekend in September. Still, beachgoers can be seen during the spring and fall months, enjoying the beautiful views and exercising on the boardwalks.
State parks start charging for vehicle admission from April through November and have lifeguards during the summer months. These beaches also accept the New York Empire Pass.
Bring your cooler, chair, and plenty of sunscreens and enjoy New York's best beach attractions with our list of the best beaches on Long Island.
Contents
1. Jones Beach State Park
2. Sagamore Hill National Historic Site
3. Watch Hill
4. Sunken Meadow Beach State Park
5. Robert Moses State Park
6. Hither Hills State Park
7. Cooper's Beach
8. Orient Beach State Park
9. Gin Beach
10. Long Beach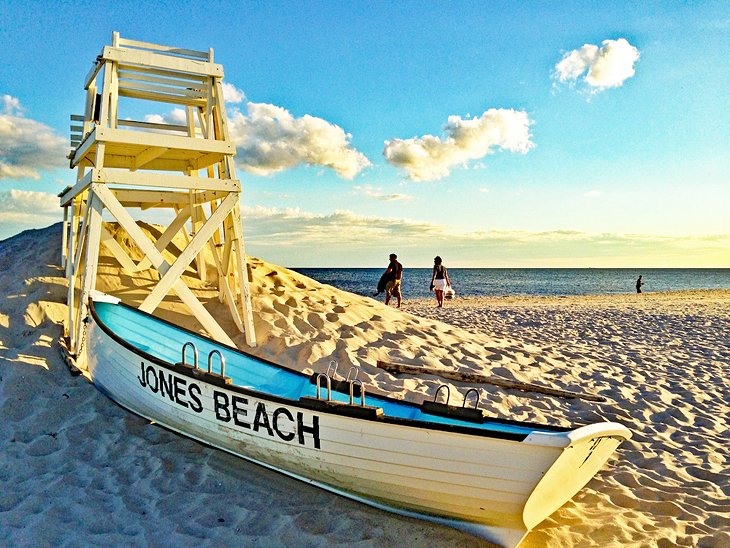 1. Jones Beach State Park
Stretching 10 km along the south shore, Jones Beach State Park is one of the busiest beaches on Long Island, receiving between six and eight million visitors a year. All of these people have a good reason to visit this seaside destination: the sand is soft, the waves are calm, and there are plenty of things to do. You can find the long stretches of white sand covered with sunbathers and families picnicking on any warm day.
The beach is easily accessible via the Long Island Rail Road (LIRR) and has volleyball, shuffleboard, basketball courts, swimming pools, and a golf course. Walk, run or skate along the two-mile boardwalk, catch a concert at the Northwell Health Theater on summer nights, and plan your visit during the spectacular Memorial Day air show.
You won't leave hungry as plenty of restaurants along the boardwalk, selling everything from seafood to refreshing milkshakes. Please note that pets are not allowed on the beach or boardwalk.
Sagamore Hill National Historic Site
The home of President Theodore Roosevelt, situated in the North Shore incorporated hamlet of Cove Neck, sits on 95 acres of forest and salt tide, with nature trails leading to the Eel Creek Boardwalk, which opens onto a stretch of serene beach along the Long Island Sound.
It may interest you: 12 best hot springs in Colorado
Sagamore Hill, which is both a national park and a museum, offers the chance to explore the charming Victorian-style 'Summer White House' of the 26th US President and wander the winding trails.
The house houses a junior ranger program that teaches children about nature and conserving Long Island's natural beauty.
The famous outdoorsman and conservationist loved his dogs, and visitors are welcome to bring their pets, as long as they're on a leash.
Watch Hill
Ranked among the top 10 beaches in New York State, the National Park Service manages Fire Island National Seashore. A popular misconception is that Fire Island is the place to party, but this 32-mile-long, car-free barrier island along the southern shore is breathtakingly beautiful and pristine. Deer graze on the rolling grassy dunes, and the long beaches remain empty even in the height of summer.
Watch Hill, located on the western edge of the Otis Pike Fire Island High Dunes Nature Park, is just a short ferry ride from the Patchogue LIRR train station.
The most attractive aspect of Watch Hill is the minimal amount of manufactured structures, as it only offers a restaurant and restrooms with showers for campers. There is also a 183-berth marina with water, electricity, and a pumping station. Visitors can participate in guided canoe rides and go hiking or bird watching in the surrounding wilderness.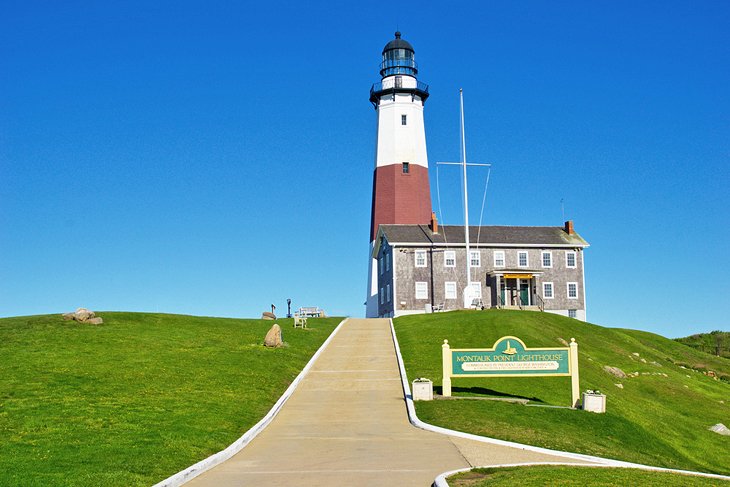 Sunken Meadow Beach State Park
Backed by beautiful cliffs, Sunken Meadow Beach in the Suffolk County town of Smithtown is a popular spot on Long Island Sound. The three-quarter-mile-long boardwalk offers a lovely walk along the north shore, with views of Connecticut in the distance.
The 1,287-acre state park has three playgrounds, baseball and soccer fields, a 27-hole golf course, and large grassy picnic areas. The calm waters along five kilometers of beaches are ideal for kayaking, canoeing, windsurfing, and paddle boarding. Nature lovers can split their day between hiking one of the many nature trails and relaxing on the beach afterward. Pets are only allowed in the undeveloped wooded areas, so keep an eye out for them.
It may interest you: 12 best beaches in San Francisco
And you won't go hungry here, as the food stalls offer the kids delicious seafood and chips and ice cream.
Robert Moses State Park
SONY DSC
Previously named one of the best beaches in New York, Robert Moses is a five-mile-long state park located on the western part of Fire Island. It's popular with locals who avoid the crowded Jones Beach and is easily accessible by car or from the Babylon train station.
Robert Moses has a pristine waterfront and waves ideal for swimming, boogie-boarding, surfing, and sea fishing. Its historic Fire Island Lighthouse makes for perfect photos. It also has an 18-hole Pitch & Putt golf course and a volleyball court (open from early April to mid-November) if you get bored sunbathing on the beach.
Hither Hills State Park
Sometimes a day at the beach isn't enough, and with 189 campsites and RV parking, Hither Hills State Park offers a beautiful beach camping experience. Fall asleep to the soothing sound of crashing waves at this 1,755-acre family-friendly state park located near Montauk, on the eastern edge of Long Island's South Fork.
Explore the "walking dunes" of Napeague Harbor on the western side of the park and nearby forests filled with Russian olive, oak, and pine trees. Children can have fun in the playground or play ball on the playing fields. The park offers the possibility of fishing throughout the year and cross-country skiing in winter.
Hither Hills fills up early in the year, so book at least six months in advance to secure your spot.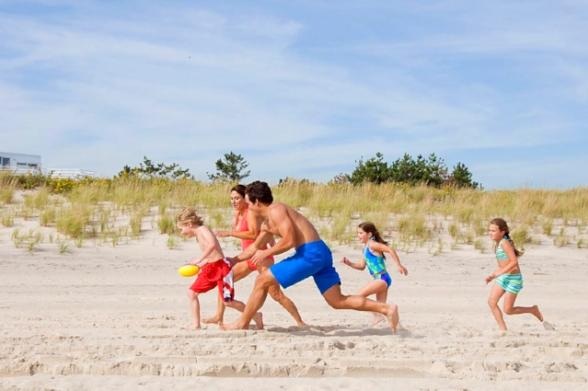 Cooper's Beach
Southampton's Coopers Beach has been rated one of the top ten beaches in the country. The Atlantic Ocean beckons with gentle waves, and the soft-sand beach offers views of stately mansions along the dunes.
Parking is a bit pricey for non-residents ($50), so rent a bike or ride your own to avoid fees. There are annual passes for non-residents for $450. Chairs and umbrellas are rented at the stall. Bring your food for a picnic or enjoy refreshing drinks and food at Coopers Beach Cafe, with a magnificent view.
In winter, take part in the Polar Bear Plunge to benefit the Heart of the Hamptons, a non-profit organization that helps those in need in the East End.
Orient Beach State Park
Orient Beach is unlike other beaches that line Long Island's south shore and is kept relatively free of crowds. Located at the tip of the North Fork, Orient Beach State Park offers gentle surf, nature trails, and water sports and fishing opportunities.
It may interest you:
10 tourist places to see in Alabama
Its maritime forest by the sea, with prickly cacti, red cedars, and black oaks, has given the park the category of National Natural Monument. Bird watchers can find avian beauties like herons, egrets, and ospreys in abundance. Be sure to wear water shoes to walk along the pebble-lined shore.
Gin Beach
On the eastern side of Montauk, Harbor Cove, is Gin Beach, on the calm waters of Block Island Sound. The gentle surf makes it a kid-friendly beach, and the nearby boats coming in and out of the harbor provide entertainment for little ones. The beach has roped-off areas for swimming and outdoor toilets and showers. As there are no houses or businesses in the section, you can enjoy the tranquility of the natural environment.
Families with pets don't have to leave their furry friends behind, as all beach areas are dog-friendly, even off-leash. Local hotels offer city parking permits for parking on the beach. You can camp at the nearby Montauk County Park RV Beach and shower on the premises.
10. Long Beach
One wouldn't expect such a powdery beach close to New York City, but just a short train ride away is one of Long Island's most beautiful beaches. Known for its famous boardwalk, teeming with cyclists, dog walkers, joggers, and people just enjoying the views, Long's Beach stretches for three miles on a barrier island off the south coast called Ocean Beach Park. . And if you want to stay connected, the boardwalk even offers Wi-Fi.
The streets leading to the beach are lined with restaurants and shops, and if you wish, you can even order pizza delivered to the beach. Bring your friends over for a volleyball game, let your kids build sandcastles, or lounge in your chair watching the seagulls soar above you. Skudin Surf offers classes for children and adults, so you can learn to catch the waves.
If you've been left wanting more, check out America's Best Beaches. Pretty! By the way… What do you think of the best beaches on Long Island? Do not forget to leave your impressions in the comments. We read!
12 Best Beaches In San Francisco, California 2022
10 Best Beaches In Fort Myers, Florida 2022
10 Best Beaches In Tennessee To Relax In 2022
15 Best Beaches Near San Antonio, Texas 2022
10 Best Beaches In Long Island, New York 2022